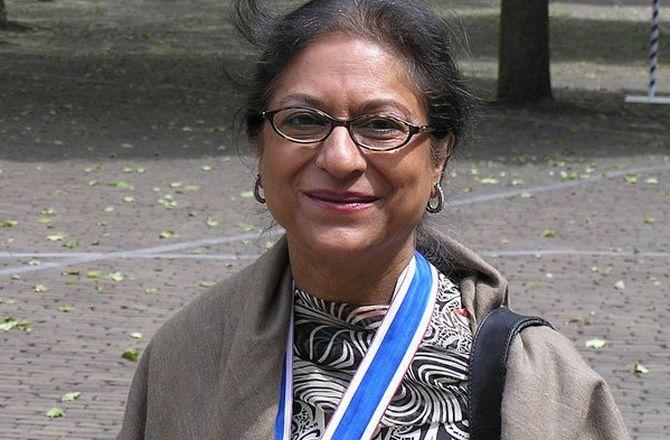 Asma Jahangir, Pakistan's renowned human rights lawyer, social activist and an outspoken critic of the country's powerful military establishment, died in Lahore on Sunday of cardiac arrest, her daughter said.
Known for her outspoken nature and unrelenting pursuit for human rights, Asma, 66, was the first woman to serve as the President of Supreme Court Bar Association of Pakistan.
'I am devastated @ loss of my mother Asma Jahangir. We shall B announcing date of funeral soon. We R waiting 4 our relatives 2 return 2 Lahore,' her daughter Munizae Jahangir said in a tweet.
'Asma suffered heart attack today morning and she was rushed to Hameed Latif Hospital Lahore where she breathed her last. Doctors tried to save her life but couldn't," said senior lawyer Adeel Raja.
As the news of her death broke, condolences started pouring in from lawyers, rights activists and politicians.
In a condolence message, President Mamnoon Hussain expressed grief over Asma's death, saying she rendered 'unprecedented' services for the rule of law.
'Today the country has been deprived of a courageous and disciplined person, who was the voice of the voiceless,' local media quoted Prime Minister Shahid Khaqan Abbasi's statement.
Ousted Prime Minister Nawaz Sharif spoke about Asma's work for women and stance against dictators, saying it would be difficult to fill the void left by her death.
'Shocked & deeply saddened to hear of Asma Jehangir's sudden death. It is an irreparable loss. May she rest in eternal peace. Ameen,' Maryam Nawaz, daughter of Nawaz Sharif tweeted.
'Democracy, human rights and resistance against oppression lost a great soldier- Asma Jehangir. It's everyone's loss. What a sad day!' she said.
Pakistan Peoples Party Co-chairperson Asif Ali Zardari expressed shock over the her demise, saying she was not just a person but was an effective voice for human rights.
'Deeply saddened by the news of sudden demise of renowned lawyer and human rights activist Asma Jahangir sahiba. Pakistan has lost a passionate champion of human rights and a staunch supporter of democracy. May her soul rest in peace!' Punjab Chief Minister Shahbaz Sharif said in a tweet.
'My hero, the woman I always looked up to, the woman who inspired me- heart broken- can't imagine how we will ever recover from this #AsmaJhangir #pakistan' said Oscar-winning filmmaker Sharmeen Obaid.
Foreign Minister Khawaja Asif said Pakistan had become poorer with her demise.
'@asma_jahangir What a brave woman. Pakistan poorer without her. People like Asma are anchors of a society. The brave and dedicated daughter of a brave father. After 3 generations of camaraderie between our families, this is a deep personal loss. God bless her soul,' Asif tweeted.
Asma is survived by two daughters and a son. Her daughter Munizae is a TV anchor.
Born in January 1952 in Lahore, Asma co-founded and chaired the Human Rights Commission of Pakistan.
She has also been Supreme Court Bar Association president.
After obtaining LLB degree from the Punjab University in 1978, she started her career as an advocate at high and Supreme courts.
Asma became a champion democracy activist and was subsequently imprisoned in 1983 for participating in the Movement for the Restoration of Democracy against the military rule of Pakistan's longest-serving President Ziaul Haq.
In 1986, she moved to Geneva and became the vice-chair of the Defence for Children International. She remained there until 1988 before moving back to Pakistan.
In 1987, she co-founded the Human Rights Commission of Pakistan and became its Secretary General until 1993 when she was elevated as commission's chairperson.
Asma also played an active role in the famous Lawyers' Movement to restore Iftikhar Chaudhry as the chief justice of Pakistan.
She has constantly raised the issue of 'missing persons' in Pakistan and calling for grilling of intelligence agencies.
She was critical of the Supreme Court for 'judicial activism' and also criticised the apex court for disqualifying Nawaz Sharif from the office of prime minister in July last year.
Asma has received several awards including the 2014 Right Livelihood Award, 2010 Freedom Award, Hilal-e-Imtiaz in 2010 and Sitara-e-Imtiaz.
She has also been an outspoken critic of the Pakistan's powerful military establishment, including during her tenure as the first-ever female leader of Pakistan's top bar association.
Asma was arrested in 2007 by the government of the then military dictator Pervez Musharraf, and in 2012 claimed her life was in danger from the country's top spy agency Inter Services Intelligence (ISI).
Photograph: ANI