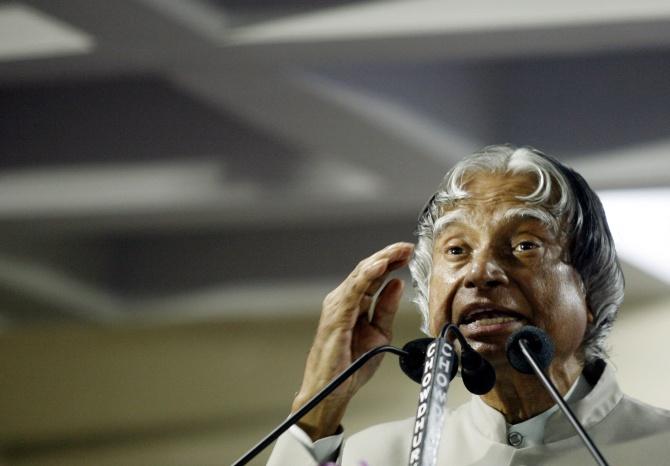 Former president A P J Abdul Kalam speaks during a function at the research and diagnostic centre for children in Kolkata in this photograph taken on May 17, 2007. Photograph: Jayanta Shaw/Reuters
Popularly called the 'Missile Man' of India, Dr APJ Abdul Kalam rose from humble beginnings and earned the reputation of being the "people's President" who endeared himself to all sections, especially the young.
A devout Muslim and son of a boat owner, Avul Pakir Jainulabdeen Abdul Kalam, who assumed office as the 11th President on July 18, 2002, was seen as a figurehead who could help heal some of the scars of the communal riots which broke out in Gujarat just a few months before.
The country's first bachelor President, Kalam, whose flowing grey hair is seen as being at odds with what Indians thought a president ought to look like, was one among the most respected people of the country who contributed immensely both as a scientist and as a President.
Acknowledged as the driving force behind India's quest for cutting-edge defence technologies, Kalam's contributions to India's satellite programmes, guided and ballistic missiles project, nuclear weapons programme and the Light Combat Aircraft project made him a household name.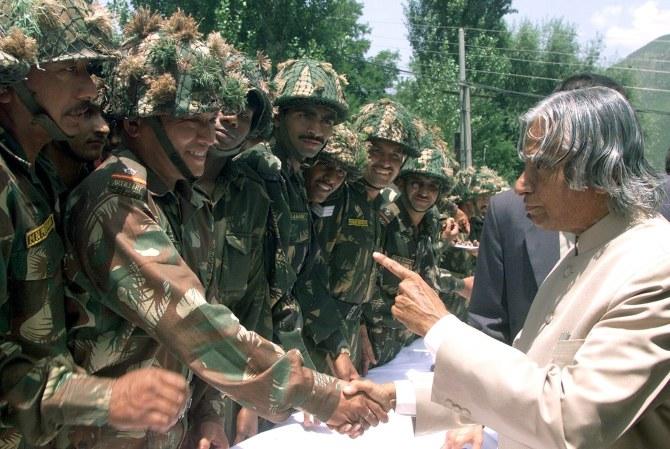 Former President A P J Abdul Kalam shakes the hand of a soldier while other troops look on during a visit to the Line of Control in the Uri sector, west of Srinagar, in this photograph taken on June 28, 2003. Photograph: Fayaz Kabli/Reuters
Born and raised in Rameswaram in Tamil Nadu on October 15, 1931, Kalam, who is known for having a unique style, joined the Defence Research and Development Organisation after studying physics and aerospace engineering after graduating from Madras Institute of Technology.
Mainly focusing on research in defence and space arena, he later involved himself in the India's missile programme. His contribution to the ballistic missile and launch vehicle technology earned him the named as the "Missile Man of India".
Kalam, who received several prestigious awards including Bharat Ratna, played a crucial role when India tested its nuclear weapons at Pokhran in 1998 when the Vajpayee government was in power.
A vegetarian bachelor, Kalam was quoted as saying that like most of the technology he spearheaded, he himself was "Made in India", having never been trained abroad.
Kalam succeeded K R Narayanan and served a full five-year term from 2002 until 2007 after he won the Presidential elections which was a highly one-sided contest with Lakshmi Sahgal, a revolutionary of the Indian Independence movement, as his rival.
He secured the backing of all political parties.
With his appointment, Kalam became the first scientist and first ever bachelor to occupy the Rastrapati Bhawan.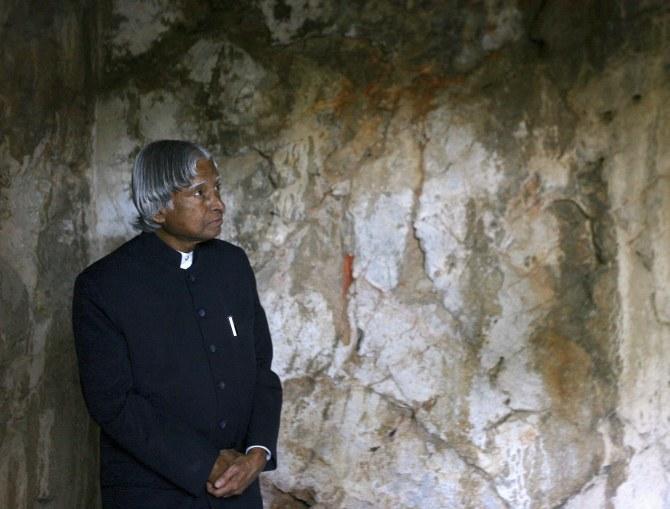 President A P J Abdul Kalam stands inside of the place where Socrates was imprisoned, at the foot of the Acropolis hill in Athens, in this photograph taken on April 27, 2007. Photograph: Yiorgos Karahalis/Reuters
During his tenure as President, Kalam came up for criticism for his inaction in deciding the fate of 20 out of 21 mercy petitions.
Kalam acted on only one mercy plea in his 5-year tenure, rejecting the plea of rapist Dhananjoy Chatterjee, who was hanged thereafter.
He answered critics over the delay in deciding on the mercy plea of Afzal Guru, who was on the death row after he was convicted of the terror attack on Parliament, saying he had not received any papers from the government. Guru was subsequently hanged.
Kalam also faced criticism over his assent from abroad to the controversial decision to impose President's rule in Bihar in 2005. He, however, sought to dismiss the criticism, saying he has no regrets.
Kalam on one occasion showed that he too was not a rubber stamp-like Constitutional head by refusing to approve the Office-of-Profit Bill. It was an unexpected response that sent tremors across the political establishment, especially the ruling Congress and its leftist allies.
The next day, Prime Minister Manmohan Singh was left to explain the matter to the President and somehow get his consent for the Prevention of Disqualification (Amendment) Bill 2006.
Known for his unique interactive skills, Kalam made it a point to involve students in his speeches and lectures irrespective of their age-group. After the lectures, he would often ask students to write to him and he did not fail to respond to many messages that he got.
For his contribution to the missile programme, he was awarded with Bharat Ratna, the highest civilian award in 1997. He was also awarded Padma Bhushan in 1981 and Padma Vibhushan in 1990.
Post-presidency, Kalam worked as a visiting professor at Indian Institute of Management Shillong, Ahmedabad and Indore and several research and academic insitutions across the
country and world.
He authored several books with the 'Wings of Fire', 'India 2020' and 'Ignited Minds' being the most read best-sellers. Kalam's father owned boats which he rented out to local fishermen, but he himself began his career as a newspaper vendor.