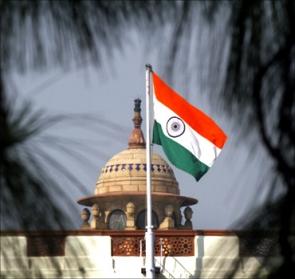 The Supreme Court on Friday expressed "displeasure" over statements made by some Union ministers including Law Minister Kapil Sibal against its verdict on gay sex, saying it is "unwarranted" and "not in good taste" while cautioning them from doing so in future.
Visibly upset after going through the statements annexed in a public interest litigation seeking action against the Ministers, a bench headed by Chief Justice P Sathasivam said the remarks made against the verdict are "not appreciable".
"We agree that some of the statements made are not in good taste. They are holding high post and they have a responsibility. They must be cautious in making statements," the bench, also comprising Justice Ranjan Gogoi, said.
"They have very casually made the statements. We take it as unwarranted comments," the bench said after going through the comments made by Sibal, Milind Deora, P Chidambaram and also J&K Chief Minister Omar Abdullah.
The bench, however, said that the statement made by the finance minister is not very objectionable but some of the remarks made by others are not in good taste.
The bench, however, refused to pass any order against the leaders who were personally made party in the case.
"Except showing our displeasure we cannot do any thing," the bench said, adding, "Though the statements made are not appreciable, we are not inclined to entertain the petition".
The court was hearing a PIL filed by a Delhi resident Purushotham Mulloli seeking removal of the Ministers for allegedly making contemptuous remarks.
Advocate H P Sharma, appearing for the petitioner, contended that the Ministers' remarks were in violation of the law laid down by this court and action must be taken against them.
"It is submitted that Centre was a party and it has the valuable right to amend the law but when the dispute came up before the Supreme Court it is the duty of the Ministers and the Chief Ministers to respect the verdict rather than attacking the verdict in a contemptuous manner," the petition said.
"The ministers who have taken the oath under the Schedule-III of the Constitution have violated their oath of office and therefore their appointments are unconstitutional and illegal," it said.
While setting aside the July 2, 2009 judgement of the Delhi High Court decriminalising gay sex, the apex court had held that Section 377 (unnatural sexual offences) of the Indian Penal Code does not suffer from the vice of unconstitutionality and that the declaration made by the high court is legally unsustainable.
The verdict touched off protests across the country and people from different walks of life including the ministers strongly criticised the verdict. The Centre and the gay rights activists later moved review petition in the apex court.