Organisers of Narendra Modi's September 27 Diaspora interaction in Silicon Valley are making sure that all faith groups and professionals are present when the prime minister visits.
Ritu Jha/Rediff.com reports from California.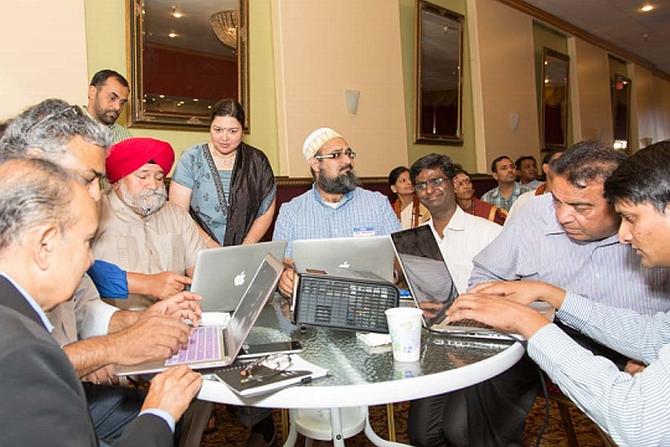 Preparations are on to greet Prime Minister Narendra Modi when he visits the Bay Area next month.
Modi will touch down in California on September 26, meet with some of the biggest names in Silicon Valley and address the Diaspora.
The registration process is underway for the Madison Square Garden-type interaction at the SAP Centre in San Jose, which has a seating capacity of 18,500. Another 2,000 seats can be added if needed.
On Sunday, August 9, over 400 California-based community leaders from various organisations and inter-faith groups gathered under the Indo-American Community of West Coast USA banner, some of whom were among the first to sign up for the event.
Registrations for Modi's California event can be done at www.pmmodiinca.org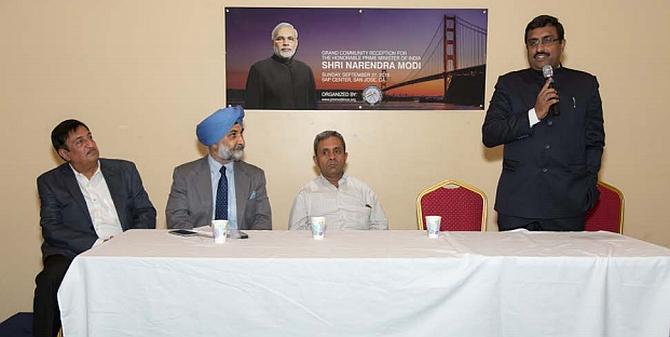 Khanderao Kand, director, Indo-American Community of West Coast USA, told Rediff.com: "The event would cost about $1 million (about Rs 6.3 crore/Rs 63 million). It will cost less than the New York event. We are not going to take any big donations from one organisation or donor. This is a community event and we are making sure all faith groups and professionals are present when the prime minister visits."
Bharatiya Janata Party National General Secretary Ram Madhav, who was present at the registration launch meeting, said: "Prime Minister Modi's overall goals are three-pronged: Unity, security, and prosperity. He has been working day and night to ensure the presence of all three. These community events all around the world not only help the prime minister communicate his objectives to a larger audience, but also help create the unity he seeks."
Ambassador Venkatesan Ashok, India's consul general in San Francisco, noted that "Silicon Valley is unique in the sense that it has the capacity and drive to dovetail into the prime minister's aspirations, dreams and ideas of creating a Digital India, promoting Make in India and pushing the Jan Dhan Yojana or the Swacch Bharat movement. Here, in Silicon Valley, we have the money, the venture capital, the innovators and the entrepreneurs. But most importantly, we have the people who want to give back. This desire is second to none in the rest of the world."
Lower Image: (from left to right) Chandru Bhambhra, co-chairman, Indo American Community of West Coast, Taranjit Singh Sandhu, deputy chief of mission of the Embassy of India in Washington DC, Venkatesan Ashok, Consul General of India, San Francisco and Ram Madhav, BJP national general secretary.