Prime Minister Narendra Modi addressed the nation from the ramparts of Red Fort in New Delhi as India celebrates the 72nd Independence Day.
This is Modi's fifth and final address as PM in the current tenure.
During his speech, Modi reflected on the achievements of the National Democratic Alliance government and presented a report card of his four-year tenure.
Here are the main takeaways from his address: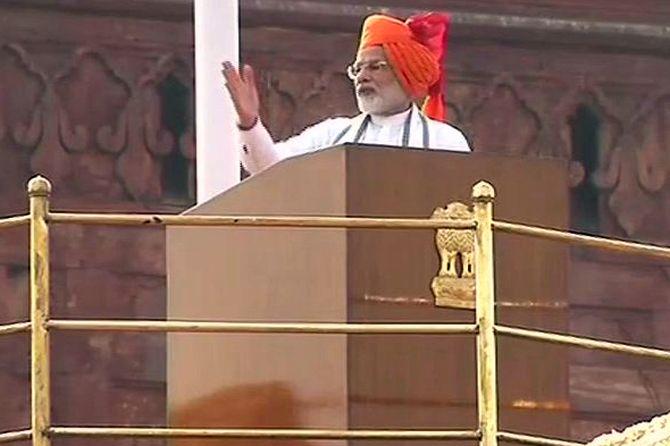 1.
Recently concluded session of Lok Sabha and Rajya Sabha was dedicated to cause of social justice
2.
India has emerged as world's sixth largest economy
3.
Many parts of India affected by floods. My thoughts are with families of those who lost their lives in floods
4.
We have to ensure social justice for all and create an India that is progressing rapidly
5.
There should be coordination between states and the centre to fulfil aspirations of the people
6.
While decisions were held back in the past due political and other compulsions,, bold decisions like GST are being taken now
7.
World earlier viewed India for policy paralysis, delayed reforms, now it sees it as a multi-trillion dollar investment destination
8.
World was worried earlier about India as it saw the country among the fragile five; now it looks at us with hope
9.
India is now seen as a land of reform, perform and transform. We are poised for record economic growth
10.
Indian astronaut, be it son or daughter, will go into space in Gaganyaan by the year 2022
11.
With a 'Beej Se Bazar Tak' approach, we are bringing remarkable changes in the agriculture sector
12.
On one hand our armed forces help Indians during natural calamities, they also carry out surgical strikes on the enemy
13.
India to launch Jan Aarogya Abhiyan on September 25 across the country to provide healthcare to 50 crore people
14.
It is high time we ensure that the poor of India get access to good quality and affordable healthcare
15.
Govt cannot shut eyes when the country is being looted. We stopped Rs 90,000 crore fraudulently going into wrong hands
16.
Money under welfare schemes was going into the hands of people who never existed. This government stopped it
17.
We will not tolerate black money and corruption which, like termite, have ruined the country
18.
Women personnel recruited through short service commission to be given permanent commission like men in armed forces
19.
I will leave no stone unturned to ensure that Muslim women do not suffer due to triple talaq. There are still some people who do not want triple talaq law to be passed in the Parliament
20.
We will move forward in J-K by embracing people and not by bullet and abuse (Goli and Gaali)
21.
Left Wing Extremism is now restricted to 90 districts against 126 earlier. We are working to ensure peace across the nation
22.
Rule of law is supreme for us. There should be no compromise on it
23.
We want to progress more. There is no question of stopping or getting tired on the way
24.
Number of direct tax payers in the country nearly doubled to 6.75 crore after our government came to power
25.
Honest taxpayer has big role in progress of country as it is due to them that lives of poor are transformed
26.
Our govt is committed to all-round development of various parts and all sections of society in J-K