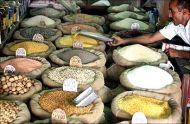 Inflation always has a higher impact in the lives of common man. As the assembly elections are on the way in Tamil Nadu, the major parties have promised for reduction in the price of goods.
The Rediff labs team has analysed how the inflation rate in Tamil Nadu has changed during All India Anna Dravida Munnetra Kazhagam (2001 to 2005) and Dravidar Munnetra Kazhagam (2005 to 2011) tenure.
The data is taken from finance department of Tamil Nadu statistical handbook . These are the major parties in Tamil Nadu ruling it for decades. The above chart compares the inflation rate for Tamil Nadu and All India during the last decade.
The highest inflation rate for Tamil Nadu is 9.4 which happened in 2010-2011 financial year which had a greater impact in last assembly election in 2011. During 2012-13 and 2013-14 the inflation rate in Tamil Nadu is higher than All India inflation rate.
Will this impact the upcoming Tamil Nadu assembly election?
For more data driven journalism, check out Rediff Labs