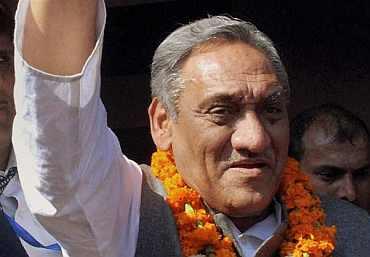 Rebel Congress leader Vijay Bahuguna on Sunday welcomed the imposition of President's Rule in Uttarakhand, saying the government headed by Harish Rawat needed to be dismissed as it was involved in "corruption".
Bahuguna, a former chief minister, expressed hope that the central rule will not prolong and fresh elections would be held in his state.
"I welcome it..It is a good step," he said while commenting on imposition of the central rule in his state.
He also alleged that the developments in Uttarakhand prior to imposition of President's Rule amounted to "murder of democracy" as he criticised the role of the Speaker in the whole affair.
Bahuguna, a bete noire of Harish Rawat, said the happenings in the state, including the sting operation against the chief minister, necessitated dismissal of the state government.
"I hope the President's Rule will not be there for long time and fresh elections will be held early," he said.
At the same time, he said if there is a possibility of formation of a government within the present Assembly, it would be good.
Uttarakhand was brought under President's rule by the Centre on grounds of "breakdown of governance" in a controversial decision which comes in the wake of a political crisis triggered by a rebellion in the ruling Congress.
President Pranab Mukherjee signed the proclamation under Art 356 of the Constitution dismissing the Congress government headed by Rawat and placing the Assembly under suspended animation this morning on the recommendation of the Union Cabinet.
The Cabinet had held an emergency meeting here last night presided over by Prime Minister Narendra Modi, who had cut short a visit to Assam to return to the capital for the purpose.
The Cabinet considered several reports received from Governor K K Paul, who had described the political situation as volatile and expressed apprehensions over possible pandemonium during the scheduled trial of strength in the state assembly on Monday.
The dismissal of the Rawat government now renders tomorrow's confidence vote infructuous.
It also came amidst reports that Speaker Govind Singh Kunjwal had disqualified 9 rebel Congress MLAs that would have enabled Rawat to sail through in the trust vote.