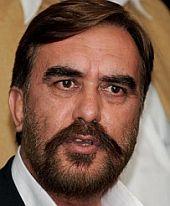 Pakistan human rights activist wants to bring Kasab home. Tahir Ali reports from Islamabad.

Pakistan human rights activist Ansar Burney, left, is willing to take custody of the body of Lashkar-e-Tayiba terrorist Ajmal Kasab who was hanged in Pune's Yerawada jail on Wednesday morning.

Burney told Rediff.com, "Kasab has been punished for what he has done, but after his execution he should be treated like a normal human being."

"I have requested his parents to approach me regarding Kasab's corpse. I will appeal to the Indian government to hand the body over to them. I will bear all expenses of bringing the body back (to Pakistan)."

Asked to comment about Kasab's actions, Burney said: "I have no love for the jurm (crime) he did. But after getting punishment he is no more a mujrim (criminal). So his dead body should be treated like that of a normal human being."
"It is his national and traditional right to be buried in his country," Burney said. "Even if his parents do not approach me, I will still work for the return of his dead body."
According to Burney, Kasab's parents may feel threatened at this moment, but a time will come when they muster the courage to visit his grave. "A time will come," Burney added, "when they will want to visit his grave for fatiha (prayers)."