IMAGE: Forensic experts inspecting the roof of the train which was broken open by miscreants for robbing four boxes carrying Indian currencies at Egmore Railway Station in Chennai on Tuesday. Photograph: R Senthil Kumar/PTI
Rs 5 crore out of Rs 340 crore cash being sent to Reserve Bank of India in Chennai from Salem in Tamil Nadu was found stolen on Tuesday, police said.
A sum of Rs five crore had been stolen, Inspector General of Police M Ramasubramani told reporters hours after the incident came to light when four of the 226 boxes stacked with the cash were found tampered with on arrival of the train in Chennai.
Meanwhile, an RBI official said the train was carrying also soiled notes from Salem to Chennai in 226 boxes with a total value of Rs 340 crore.
"Out of the 226 wooden boxes, four boxes were found tampered with soon after the train reached Chennai from Salem," the official said.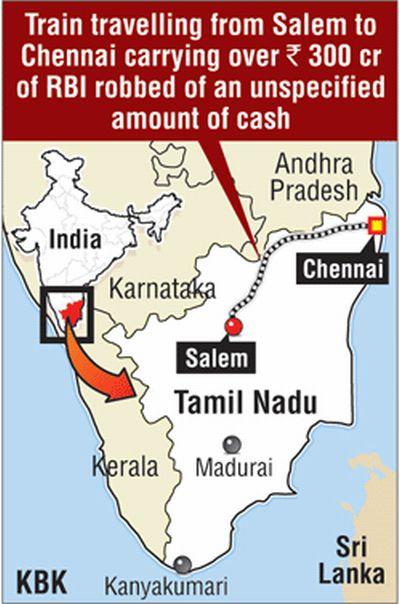 Police said an air-vent in one of the three cargo coaches in which the cash boxes were kept was found broken, triggering doubts that someone could have entered from its roof.
They suspect that culprits could have entered the coach on the Salem-Vriddhachalam section where trains don't run on electricity but on diesel locomotives, making it easy for the robbers to make their way from the top.
Police said they were probing several angles, including how the theft could have happened despite police protection provided to the cash which had both currency notes printed prior to 2005 as well as soiled notes.
Currency notes printed prior to 2005 had been ordered to be exchanged by the central bank with June 30 last as the deadline.