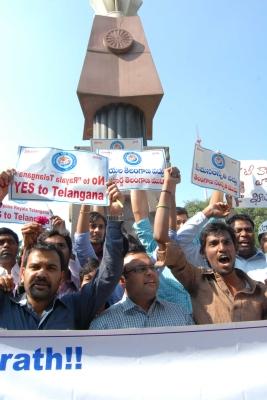 Telangana will have ten districts and Hyderabad will be a joint capital of the new state and Rayalseema for ten years
The Union Cabinet is expected to meet on Thursday evening and announce the decision on Telangana formally. A Bill on Telangana will be drawn up and then sent to the President.
The President, after studying the Bill, will send it to the Andhra Pradesh legislative assembly to seek its opinion. The Bill will eventually be placed before Parliament for approval.
The Group of Ministers had on Wednesday suggested that instead of creating Telangana, the Union government can consider forming a state of Rayal-Telangana with 12 districts. But the suggestion was shot down by the top brass of the Congress which realised that such a move would be akin to committing political suicide in the state.
The creation of Rayal-Telangana would also go against the resolution of the Union Cabinet and the Congress Working Committee. The Bill would also have been shot down in the Parliament.
Hyderabad remained tense on Thursday as pro-Telangana activists protested the proposed formation of Rayal-Telangana.
Congress President Sonia Gandhi, who met two leaders from Telangana on Thursday morning, assured them that there was nothing to worry about.
Ponnam Prabhakar and Madhu Yaski Goud had met Gandhi and shared their apprehensions over the formation of Rayal-Telangana.
Image: Protests against Rayal-Telangana rocked Hyderabad on Thursday ' Photograph: SnapsIndia