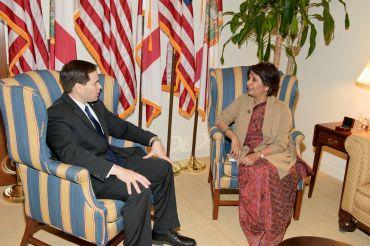 In a rare honour, and perhaps unprecedented in the annals of Indian diplomacy in the United States, Ambassador Nirupama Rao will travel to Gainesville, Florida, on Friday to deliver the graduation address to the University of Florida's Doctoral Degree Commencement Ceremony.
In her address, Rao is expected to highlight the critical role that educated youth can play in the advancement of democratic values, public service, and social innovation goals. 
She also intends to point out that India, like the US, understands fully the importance of higher education, in fostering technological progress and inclusive growth.
Rao said, "I am very honoured for the invitation to address students at the University of Florida during their graduation. The US and my country share many fundamental values, a fact that strengthens our already close partnership. One of our most significant commonalities is the belief that education leads to economic strength and progress for all our people."
By coincidence, Rao received the invitation to speak at the university soon after she met in February with US Senator Marco Rubio of Florida, a Republican, who is now the talk of the town as he is strongly rumoured to be the GOP's presumptive presidential nominee, former Massachusetts Governor Mitt Romney's running mate.
Although Rubio has continued to dispel these rumours and says he is not interested in the vice president position, the popular freshman Senator, a Cuban American, is seen as the Republican establishment, as the best bet for Romney to resurrect the Hispanic vote, which is vital if he's to defeat President Obama in the November elections.
Thus, the consensus among leading political analysts is that if Romney and the GOP bigwigs go to Rubio and implore him to join the ticket with the argument that this is the only way to defeat Obama, he may acquiesce.
During her meeting with Rubio, the Senator requested Rao to visit Florida, which she said she would. She also invited him to India, a visit he said he looked forward to. Rubio described the US-India relationship as "extremely important" and called India "a shining example of democracy in its region and the world."
While in Florida, Rao will meet with the large, influential, and politically savvy Indian American community and will tour the University of Florida's HUB, the school's centre for the commercialisation of university research.
Image: Ambassador Nirupama Rao meets Senator Marco Rubio from Florida on February 14, 2012 at Capitol Hill in Washington D.C.
Photograph Courtesy: Embassy of India, Washington, DC