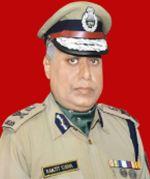 Senior Indian Police Service officer Ranjit Sinha on Monday took over as the new Central Bureau of Investigation director and said he would lay special emphasis on addressing delays in execution of Letters Rogatory and improving forensic capabilities of the agency.
A 1974-batch Bihar cadre officer, Sinha, who is also holding charge as director general Indo-Tibetan Border Police, succeeds A P Singh who retired on November 30.


Fifty-nine-year old Sinha, who will have a two-year tenure, had served in the agency as deputy inspector general and joint director during his earlier stints.
Addressing the media after assuming charge, Sinha said, "It is with a deep sense of responsibility that I take charge of the prestigious office of director of the Central Bureau of Investigation. I feel very honoured, and at the same time, am also humbled at the extremely important task bestowed on me.
"The CBI is the nation's premier agency for investigating corruption and crime. Institutionalised within the walls of this imposing building, is a strong work ethic of discipline, integrity and professional competence. The citizens of India, constitutional courts and State and Central governments have reposed their faith in the CBI time and again, and, I assure you that this bond of trust and faith will be strengthened under my supervision," he said.
"I am well aware of the rigours, processes and procedures being followed in this organisation, having served as DIG and joint director in the bureau. Now, as head of the bureau, I also bring with me, experience from serving the nation in my cadre, as well as heading Central police organisations," he said.
"I am well aware of the challenges before the CBI, which include: shortage of manpower, need to provide modern technology and facilities; upgradation of forensic laboratories; and, need to reduce delays in execution of Letters Rogatory," he added.
"I take charge of the post of director CBI, I want to assure you that the motto of the organisation -- industry, integrity, impartiality, will be upheld in full earnestness. The officers and staff of the bureau will conduct investigations entrusted to them, in a fair and free manner - without any kind of fear or favour," he said.
"On this occasion I wish to acknowledge the sterling leadership shown by my predecessors. It will be my endeavour to build on that, and to ensure that the best traditions and practices of the CBI are preserved and the bureau reaches greater heights," he added.
Dismissing the controversy regarding his appointment, he said, "I don't think there is any controversy. I think the government has taken a decision and because of that decision I am here.
"I don't think there was any resentment among IPS officers. I do not know who filed a petition or complaint against me. It (appointment) is the prerogative of the government," he said when asked about petitions filed against his appointment.
To a question whether the CBI director should have a five-year fixed tenure, he said it is a policy matter and at present it is a two-year tenure.
Delving on the rigours associated with the job, Sinha said public and constitutional courts have reposed faith in the agency and this bond would be strengthened under his supervision.