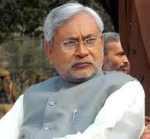 Bihar Chief Minister Nitish Kumar differed with his old ally the Bharatiya Janata Party on the appointment of Ranjit Sinha as the new Central Bureau of Investigation director saying that he has no objection over the appointment.
"I have no objection to the appointment of Ranjit Sinha as the new CBI chief," Nitish Kumar told the media on Monday.
Nitish Kumar said that he was happy that a Bihar cadre India Police Service officer was appointed to the post. "Why will we object to a Bihar cadre IPS officer achieving great heights," he added.
The Bihar CM said that if the central government had appointed a new CBI chief, it could be a right decision.
Sinha was appointed as the new director
of the CBI on Thursday. Sinha, who joined the IPS in 1974, is the Indo-Tibetan Border Police chief.
Kumar's support comes after BJP leaders Shatrughan Sinha and Ram Jethmalani also backed the IPS officer. Jethmalani has also been suspended from the BJP for going against the party line by defending Sinha's appointment as CBI director.
Senior BJP leaders Arun Jaitley along with Sabha Shushma Swaraj had written letters to Prime Minister Manmohan Singh saying that the appointment of new CBI director should not have been done when the Rajya Sabha select committee had recommended that such appointments should be done through a collegium.
However, the PM, in his reply, had said "insinuation that the appointment was made to pre-empt the procedure recommended by the select committee is wholly unwarranted and devoid of any merit."