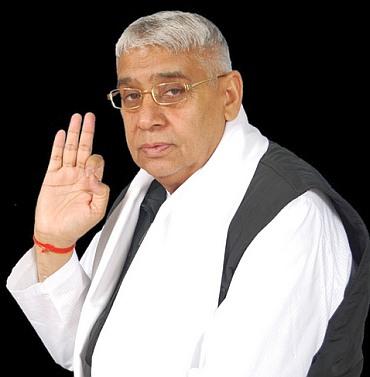 A huge cache of arms, a private swimming pool, state-of-the-art elevators and 24 AC rooms with one having a massage bed were found inside the highly-fortified Satlok Ashram from where 'godman' Rampal was 'smoked out'
The shocking details came to the fore during the police operation to nab the 'mouse' -- the code name used for the controversial 63-year-old engineer-turned-preacher, who was arrested on Wednesday in a murder case.
The cops came across a number of almirahs. From the two almirahs police recovered three .32 bore revolvers, 19 air guns, two double barrel12 bore rifles, two .315 bore rifles, 28 cartridges of .32 bore, 50 cartridges of 12 bore and 25 cartridges of .315 bore.
Most of the weapons were kept in bags and almirahs in two secret rooms. In the centre of the Ashram, Rampal had an elevated structure on which he had his seat. The ammunition was stored under the structure so that no one could suspect the location.
The team also found helmets and sticks and 20 pairs of black dresses and two tanks containing 800 litres of diesel and catapult. The three persons found hiding in the Ashram have been identified as Yaadram, resident of Jakhli, district Badaun, UP, Ravi, resident of Kharati, Chhattisgarh, and Ramesh, resident of Dhani Sillanwali, district Bhiwani in Haryana.
The ashram, built like a fortress, is surrounded by high walls with watchtowers. A special room was set up within the Ashram for his securitymen comprising private commandos. The sprawling complex was found to be under constant surveillance with CCTV cameras installed at several key-points to keep a tab on the movements of devotees, who largely came from low-income strata.
At the entrance of Ashram, spread over 12 acres adjacent to Chandigarh-Hissar national highway in Hissar district of Haryana, police found metal detectors to check the devotees.
The AC rooms in the Ashram, which could be compared to a starred hotel or a farm house, had attached bathrooms fitted with top-of-the line fixtures. One of the rooms had a massage bed, while another a treadmill.
The 'satsang' (prayer) hall in the complex, which came up in four years, is the centerpiece of the Ashram having a sitting capacity for 50,000 people. ampal used to sit in a hydraulic chair to deliver sermons from a bullet proof enclosure as his private militia stood guard.