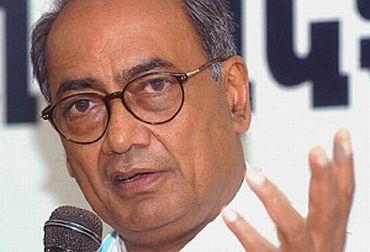 In a veiled warning to Anna Hazare for his proposed fast, Congress leader Digvijay Singh on Wednesday indicated that the Gandhian might be meted out the same treatment, depending upon the prevailing situation at that time, as yoga guru Ramdev was given at Ramlila ground.
"If Anna goes on a fast in New Delhi, he will also be meted out the treatment depending upon the prevailing situation at that time," Singh said without mentioning the crackdown on Ramdev's protest at Ramlila grounds recently.
According to Singh, the younger supporters of the anti-corruption crusader 'flatter' him to fast without considering his old age.
"His (Hazare's) supporters flatter him and make him sit on a fast. Instead of Anna, his young supporters should go on the fast," Singh told mediapersons in an informal chat here after returning from Jabera of Damoh district.
Asserting that the parliamentary form of system was always supreme, Singh said that the government was accountable to people rather than to Anna and his team.
"Though Anna was a Gandhian, his supporters weren't the same," he said.
Taking a jibe at the Rashtriya Swayamsevak Sangh, he said that he was a better Hindu and follows the tenets of Hinduism much more religiously than the so-called Hindu organisations.
"Which religion teaches bomb making for blasts or which Koran calls for killing innocent people," Singh said, adding that the real motive of these so-called organisations was to raise donations.
Replying to a query, he said that Dwarka Shankracharya Swaroopand Saraswati was a freedom fighter who was jailed during the freedom struggle while members of the so-called Hindu organisations were indulged in slavery of Englishmen.
Digvijay also described himself as 'Diggileaks'. He said Wikileaks was outstanding but 'Diggileaks" was more extraordinary.
Singh's remark came in response to a query from a journalist who asked that he was being equated with Wikileaks for his outspoken and controversial statements.
Image: Digvijay Singh