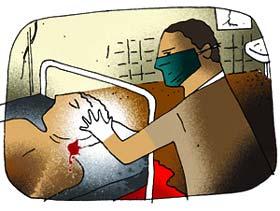 A mugged man finds a saviour in the middle of an epidemic.
I was at the Bhabha hospital, Bandra, Mumbai, on August 11 to report on the fear that was overtaking the city.
Mumbai was in the throes of an epidemic following the deaths of many people from leptospirosis.
The sight outside the hospital was dismal. Patients were swarming into the hospital for admission. But Bhabha was overflowing and there were no beds. Not a single doctor was in sight. Nor were proper instructions being conveyed to the hundreds of panicky patients queuing outside the hospital for treatment.
The public had a deafening complaint: Government hospitals just don't work.
I agreed with them. It was plain to see that the doctors were unable to handle the pressure.
But in 48 hours my opinion of government hospitals spun 180 degrees.
Why, you may ask?
Read on.
On August 13 at 3.30 am I got a call from the boss. One of our colleagues had been mugged just half a kilometre from our office by four youths with knives.
He had been walking down the busy, main Mahim Causeway after a late night shift on his way to a taxi stand when the youths sprang at him near a bridge. One of them brandished a chopper and slashed his neck, knocking him down, and then the other three attempted to wrestle off his bag, wallet and cell phone. Our man, in spite of a gaping neck wound and blood pouring down his front, beat them off and tried to wave down, without luck, passing cars, motorcycles and scooters. The four assailants had taken off on two motorcycles.  
Severely injured though he was, our friend managed to flag down a police van and went to Mahim police station to file a complaint. I live nearby, so rushed there.
In 10 minutes, I was at the Mahim thana. The inspector on duty told me they had rushed him to Bhabha hospital for treatment. 
When I located my colleague in the emergency room at Bhabha, I nearly went into shock. He was bleeding profusely. The attackers had slit his neck pretty badly. The gash was 10 cm-long and the bleeding refused to subside.
The junior doctor at Bhabha informed me that the bleeding had to be stopped urgently. One of the arteries had been slit in the scuffle and he had to be operated upon once.
I called my colleague's relatives and told them of the doctor's decision to operate at once. I explained that the doctor said our colleague was running against time and a decision had to be taken as soon as possible. There was no time to shift him to a private hospital because any further loss of blood could prove fatal.
But my colleague and friend had no confidence in the doctor. He whispered to me that the doctor looked more like a 'barber'.
He asked, "Are you confident that I am in safe hands?"
I told him we had no option but to trust the doctor, even if he was a doctor in what I perceived to be a not very efficient government hospital.
The doctor gave our colleague a sedative and took an underwriting from me that if something happened I would take responsibility. I told my colleague's relatives, who were trying to reach the hospital at the earliest, that we were going ahead and that I was signing the papers and they okayed it.
The junior doctor's hands were shaking as he attempted to capture the artery. After trying for five minutes he gave up and said it would be better if a surgeon did the operation.
Meanwhile, my cell phone had been ringing non-stop, with my boss, family and others calling frantically to find out what needed to be done next. Should we shift him to a private hospital. Or should we stay at Bhabha?
The nurses told me that the senior doctor, Dr Ram, would soon come in and do the job. They told me to have faith in their judgment. He was a capable and trustworthy doc.
I looked at my colleague and wondered what to do. A wrong decision on my part could mean anything.
I kissed his head and told him we would need to put our confidence in these government doctors. I explained to him that even if we moved him to a better private hospital, there was no guarantee he would get a good surgeon immediately. So, in conference with the boss and my friend's relatives, we took the decision to place our trust in Dr Ram.
Who, when he turned up, was little more than five feet tall, and seemed half-asleep as he entered the room. But he told me not to worry, he would take care of everything. He was my last hope.
My colleague wanted to make a phone call before the operation, but the doctor refused permission to even send a text message (sms). He said if he even moved his hand or talked anymore, further blood would flow from his neck.
I bade my colleague goodbye, not sure how the procedure would go. As per his wish, I took his picture on my cell phone as a record of how bad he was that night.
Dr Ram then started suturing the artery that had been severed, which process took only 10 minutes.
It was the worst 10 minutes of my life.
Things got okay when he finally announced that all was fine, my colleague was out of danger, the artery had been mended, the bleeding would stop in another five minutes.
Job done, Dr Ram disappeared into the night.
My colleague's relatives arrived soon after and I collapsed in relief.
My friend was at Bhabha hospital for another three hours. Surface surgery was done to close the wound by the same junior doctor who had been unable to operate on the artery.
By 8 am my colleague had been returned to us on a stretcher, with a new lease of life. We then decided to take him to a private hospital, anyway, to get a second opinion.
So I went to settle the bill at Bhabha, and was stunned to discover that the entire procedure was free – no charges for the doctors or the nurses, or the glucose drip, the medicines and bandages. Everything was free.
I left the hospital a changed man.
I told myself I would never abuse government hospitals again. They were doing their job to the best of their capabilities under not very easy circumstances.
I salute Dr Ram. I salute so many doctors like him who work selflessly to help people like my colleague and me in the middle of the night.
Illustration: Dominic Xavier