Uttar Pradesh minister Mukut Bihari Verma has sparked a controversy with his comments that the Ram temple will be built in Ayodhya because the Supreme Court is ours.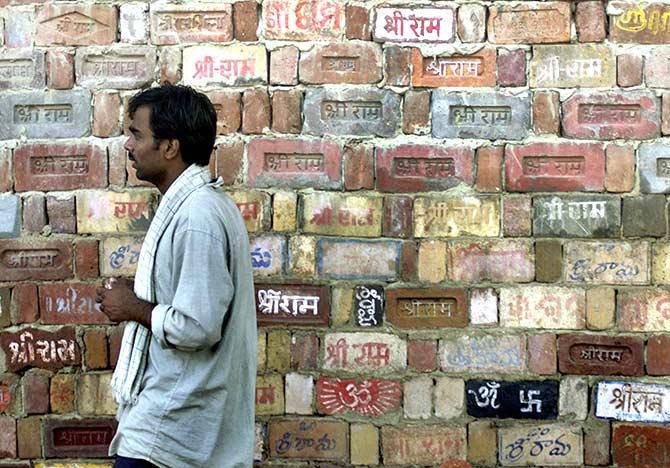 "Mandir hamara aradhya hai .. mandir banega .. mandir bananey ki liye hum log sankalpbadh hai (Temple is our resolve. It will surely come up and we are all committed to it)," he said while talking to journalists in Bahraich on Saturday.
When a journalist reminded him that the verdict in the temple case in the Supreme Court is yet to be delivered, the minister casually said, Supreme Court main hain tabhi toh! .. Supreme Court bhi toh hamara hi hai na, Supreme Court bhi hamara hai ... nyay palika bhi hamari hai .. Vidhan Palika bhi hamari hai .. yeh desh bhi hamara hai .. mandir bhi hamara hai (yes, precisely because the matter is with the Supreme Court. The Supreme Court is ours, isn't it? The judiciary is ours, the country is ours and the temple is ours too).
Verma, a four-term Bharatiya Janata Party lawmaker from Bahraich, is the minister for cooperatives.
Some in the opposition felt that such remarks were a deliberate attempt to keep the temple issue in the news in the hope it would help polarise the atmosphere ahead of the 2019 Lok Sabha elections.
Criticising Verma over his statement, Bahujan Samaj Party's Sudhindra Bhadoria said, "This is a very serious statement coming from the BJP ministers and leaders. They are trying to undermine the authority of the Supreme Court. The entire constitution is in jeopardy as long as the BJP is in power. If BJP is not shown the door in 2019 then I am quite sure that democracy and the constitution will be undermined by these people."
Furthermore, Communist Party of India leader D Raja said Verma's statement was "very atrocious".
"They (BJP) think that they can do anything in this country. The Constitution is being subverted. Both BJP and RSS don't respect the Indian Constitution. They don't respect the Parliament. They don't respect the parliamentary democratic practices," he said.
"The matter is pending before the court and before the verdict they are claiming that 'Supreme Court is ours.' This is atrocious. I demand that the prime minister should come out openly and explain the government's plan. What's the government's stand on all these statements coming from BJP ministers?" Raja continued.
Resonating similar sentiments, Janata Dal-United leader KC Tyagi said that Verma's statement was "an insult for the Supreme Court."
The Babri Masjid, built by Mughal emperor Babur in Ayodhya in 1528, was, on December 6, 1992, razed to the ground allegedly by Hindu activists, claiming that the mosque was constructed after demolishing a Ram temple that originally stood there.
Since then, several hearings have been held in the Supreme Court regarding this matter.
With inputs from ANI