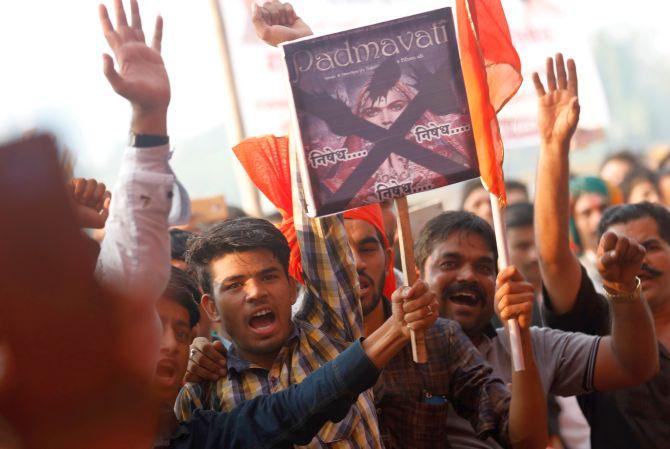 Unhappy over the censor board's green signal to Bollywood film "Padmavati" with certain changes, a Rajput outfit on Tuesday demanded a total ban on the film directed by Sanjay Leela Bhansali and threatened to "set ablaze" the cinema halls screening it.
The Rashtriya Rajput Karni Sena said the censor board's nod to the controversial film was "unfortunate".
The Gujarat president of the outfit, Raj Shekhawat, made an open threat, saying the RRKS members would take the law into their hands if the film was not banned across the country.
The Ranveer Singh-Deepika Padukone-starrer has already been banned in Gujarat and some other states.
The RRKS is a splinter group of the Rajasthan-based Rajput Karni Sena, which is also against the release of the film.
"It is unfortunate that the censor board has decided to give the film a U/A certificate with only five changes. We will not accept this.
"We want a total ban on the film, which glorifies the barbarian invader, Alauddin Khilji. Just like Gujarat and some other states, we want the Centre to stop its release in the other parts of the country as well," Shekhawat said.
Stating that a few changes here and there were not sufficient when the entire film was "distorted" and "not based on historical facts", he said, "We want the government to impose a pan-India ban on the film. Otherwise, we will take the law into our hands and not hesitate to set ablaze cinema halls (screening the film)."
According to Shekhawat, a mere change in the disclaimer or in the title would not serve any purpose as the viewers would eventually believe what they saw in the film.
"A panel of experts had also said that there were too many flaws (in the film). (The erstwhile) Mewar royal family's Maharaja Arvind Singh, who was also on the panel, had said that facts were distorted in the film. Even then, the censor board has taken such a decision. We will not sit quiet if the film is released," he said.
On December 30, the Central Board of Film Certification, headed by Prasoon Joshi, had announced that "Padmavati" would be given a U/A certificate and suggested that the director changed the film's title to "Padmavat".
It had also suggested certain modifications in the disclaimer of the film, making it clear that it did not glorify the practice of "Sati", and relevant changes in the song, "Ghoomar", to befit the character portrayed in it.
The CBFC had clarified that the U/A certificate would be issued to the film once the modifications were carried out and the final material was submitted.
The film got stuck in a controversy after various Rajput groups alleged that it distorted history, a claim repeatedly denied by Bhansali.
As the anti-Padmavati protests spread across various states, the film's December 1 release was deferred as it did not have a clearance from the censor board.
Image: Members of the Rajput community chant slogans as they protest against the release of Padmavati. Photograph: Danish Siddiqui/Reuters