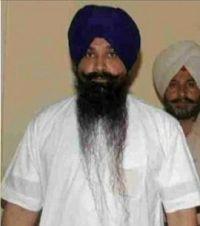 Balwant Singh Rajoana, a convict on death row in connection with the assassination of former Punjab Chief Minister Beant Singh, has said that he did not want anyone to defend him.
Shiromani Akali Dal (Amritsar) president and former IPS officer Simranjit Singh Mann had recently sought stay Rajoana's hanging.
"I have no need of Mann or need for sympathy of any other Congress agent," Rajoana said in a letter purported to have been written by him and released by his sister Kamaldeep Kaur in Fatehgarh Sahab.
In his letter which was addressed to the Sikh community, Rajoana said he has no relations with Mann.
Rajoana said Mann should not worry about his (Rajoana's) body which he had already donated to a hospital.
Rajoana was a party to the assassination of Beant Singh and sixteen others. They were killed by a human bomb at Punjab civil secretariat on August 31, 1995. Rajoana was sentenced to death in 2006.
Rajoana's hanging was scheduled to take place on March 31, 2012 but was postponed in wake of a review petition moved before President of India by SGPC and Badal Dal.
His mercy petition is pending with the President.