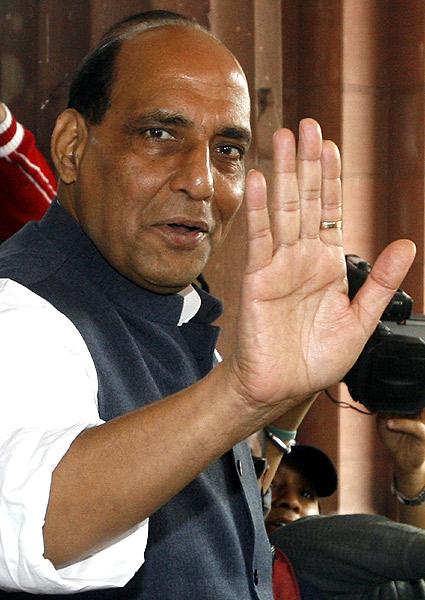 The issue of alleged bugging at Union Minister Nitin Gadkari's residence rocked Parliament on Wednesday with Congress alleging that the methods used in Gujarat to keep tabs on ministers and MPs were being employed at the Centre, a charge stoutly rejected by Home Minister Rajnath Singh.
The matter was raised vociferously by Congress in both Lok Sabha and Rajya Sabha. The Upper House saw four adjournments -- two each during Question Hour and Zero Hour.
"When the news itself is false and baseless, the question of an inquiry does not arise," Singh said in Lok Sabha, adding that the reports should not be taken seriously.
His clarification came after Leader of Congress Mallikarjun Kharge alleged that in Gujarat telephones of as many as 29,000 people were tapped.
Amid uproar by some BJP MPs, he wanted that Prime Minister Narendra Modi himself should come to the House and take the nation into confidence by giving a detailed statement on how many ministers, MPs and officials were being snooped.
Kharge expressed concern over reports that some listening devices were found at Gadkari's residence.

Gadkari was present in the Lok Sabha when the issue was raised by Congress, which unsuccessfully tried to highlight it when the House met for the day.
In the Rajya Sabha, the issue created storm and the House saw four adjournments as Congress-led Opposition remained adamant on a discussion and a thorough probe into the matter.
Raising the issue, deputy leader of Congress Anand Sharma alleged that, "Government is allowing tapping of telephones on a large scale. It is a question of privacy. This is a serious matter...Here we are talking of bugging. Who has allowed it? Our demand is a thorough probe to unearth the truth. It has to be discussed in the House."
Congress members raised slogans - "Modi model nahin chalega" and "We want JPC".
Earlier, the Home Minister told the House that, "There is no truth in those media reports. The Minister too has termed the reports as baseless and factually incorrect."
Singh also said no high powered listening device was found at Gadkari's residence.

Pramod Tiwari (Cong), whose notice for discussion of the issue after suspension of Question Hour was disallowed by the Chair, wondered as to "Why the government is so scared to discuss it."
Congress Chief Whip Satyavrat Chaturvedi said, "Why are you running away from a discussion? It means the entire matter is fishy."
Parliamentary Affairs Minister Venkaiah Naidu retorted, saying, "There is no question of being scared. The Minister has already made a statement."
As Congress members continued to vociferously demand a discussion and a thorough probe, Deputy Chairman P J Kurien tried to restore order, saying if a member wants to raise something he can give notice and the Chairman will examine.

Congress raised the issue of bugging soon after the Upper House met for the day with its members demanding an impartial probe by a Joint Parliamentary Committee.
Anand Sharma (Cong) said bugging of cabinet ministers is a serious matter and it should be discussed in the House.

He said the issue of call records of then Leader of the Opposition and now Leader of the House Arun Jaitley being allegedly accessed unauthorisedly was discussed earlier in the House.

But, Chairman Hamid Ansari asked members to allow Question Hour and raise the matter during Zero Hour.
Jaitley said there was a vast difference between fiction and realty and the Home Minister will make a statement.

Singh's statement did not satisfy the agitated Congress members who continued to shout slogans like "Gujarat model nahi chalega", forcing adjournment of the House for 15 minutes and then till noon.
In the Zero Hour, after an initial adjournment of 10 minutes, Kurien adjourned the House till 2 PM amid slogan shouting by Congress members, who did not let Anand Bhaskar Rapolu (Cong) to speak on the plight of tribals and industrial unrest in Telangana.

Ashwani Kumar (Cong) said government was engaging in unauthorised phone tapping and the matter was serious.

In the Lok Sabha, the issue generated much heat with the Opposition dubbing it as a serious matter and demanding a statement from the government.
The Home Minister rejected demands of a probe, saying the news reports are baseless and false and need not be taken seriously.
As soon as the House took up Zero Hour references, Congress and other opposition members trooped into the Well voicing concern over the issue.
Speaker Sumitra Mahajan said she will allow the issue to be raised, but Congress members including Jyotiraditya Scindia, Ravneet Singh and Adhir Ranjan Chowdhury continued to raise slogans inside the Well.

Leader of Congress in Lok Sabha Mallikarjun Kharge said the issue of "spying" on a Union Minister is serious.

He said though Gadkari and the Home Minister have denied the allegations, he wanted to know as to how many ministers and MPs were being snooped upon.
He said such a thing has taken place in Gujarat where a police DIG has given an affidavit stating that phones of 29,000 people were tapped.
The Home Minister said the news report that a high powered listening device was found in Gadkari's bedroom is "baseless", therefore, there is "no question" of a probe.
He said Gadkari himself has termed the report as false and baseless and there is no need to take it seriously.