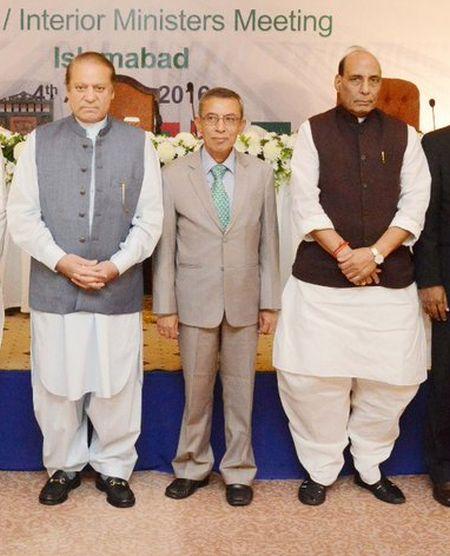 Home Minister Rajnath Singh, who is in Islamabad to participate in the South Asian Association for Regional Cooperation ministerial conference, on Thursday along with his counterparts from the member countries called on Pakistan Prime Minister Nawaz Sharif.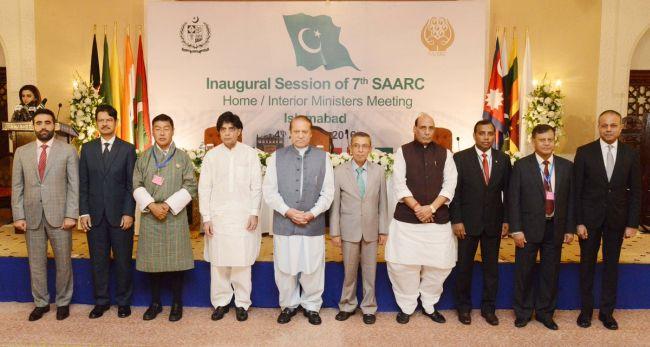 Singh was part of the joint delegation of the Interior/Home Ministers of SAARC nations when they called on the Pakistani prime minister at his office.
"It was a formal courtesy call, nothing else," an official said.
The Interior/Home Ministers' of SAARC nations were with Sharif for about 20 minutes during which only pleasantries were exchanged, the official said, adding nothing formal was discussed.
Sharif's meeting with a senior Indian functionary came amidst the ongoing strain in bilateral relations between India and Pakistan following the killing of Hizbul Mujahedeen militant Burhan Wani in Jammu and Kashmir on July 8.
Not only did Prime Minister Sharif praise Wani but he also remarked that "Kashmir will one day become Pakistan", a comment which evoked a sharp reaction from External Affairs Minister Sushma Swaraj, who said his dream of the state becoming a part of his country "will not be realised even at the end of eternity.
The decision of Singh joining the Interior/Home Ministers in the courtesy call of Sharif was taken after several rounds of consultations among top officials of ministries of home, external affairs and prime minister's office on Wednesday.
The eight-member SAARC grouping comprises Afghanistan, Bangladesh, Bhutan, India, Maldives, Nepal, Pakistan and Sri Lanka.
Image: Rajnath Singh with his counterparts from SAARC nations called on Pakistan Prime Minister Nawaz Sharif in Islamabad. Photograph: @pmln_org/Twitter