Rajinikanth's comments on the Cauvery issue have often made him the target of pro-Kannada outfits who threatened to disrupt his film's release in Karnataka.
However, this time there has so far been a lack of fanfare even in Tamil Nadu. R Rajagopalan explains why.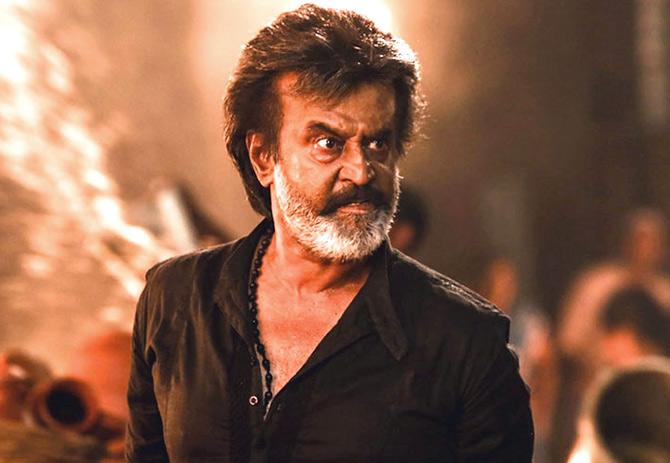 Superstar Rajinikanth's latest film Kaala has not only run into political controversies but also reportedly lost viewers in Tamil Nadu.
There are reports from Chennai that, unlike in the past, Rajinikanth's fans are not queuing up to see the movie. No 'release pujas' are being conducted in some parts of Tamil Nadu. However, trade analysts and distributors are hopeful that the collections will pick up over the weekend.
Pro-Kannada activists next door in Karnataka are also upset with Rajinikanth for favouring the formation of Cauvery Management Board. But what explains the lack of fanfare in Tamil Nadu?
Rajinikanth spoke his mind after police firing during anti-Sterlite agitation in Tuticorin in which 13 people were killed. Blaming anti-socials for being behind the violent agitation, he said that the state government should control them with an "iron hand", like former chief minister Jayalalithaa did.
This has provoked elements on the left, who began to demonstrate against Kaala.
The main opposition DMK too has been provoking Rajini to get him to speak more on spiritualism etc, and thereby trying to show that he is close to the Bharatiya Janata Party and Hindutva outfits.
Rajinikanth has a great fan following in Karnataka, especially in Bengaluru and Kolar areas, where the Tamil population is more.
The 67-year-old actor's comments on the Cauvery issue have often made him the target of pro-Kannada organisations.
However, following his statements regarding the Tuticorin violent, Tamil activist groups in Norway and Switzerland also announced a ban on Kaala, saying they would not release the films of actors in the future who deliberately hurt the feelings of Tamil people.
The Karnataka Film Chamber of Commerce too stated that the distributors are not willing to release Kaala.
Despite an order from the Karnataka high court to ensure a peaceful release of the film in the state, Chief Minister H D Kumaraswamy advised the distributors to 'delay it till the Cauvery dispute was resolved'.
Even Kamal Haasan, who met Kumaraswamy to discuss the Cauvery issue, appeared to distance himself from the controversy over the film.
"I did not discuss movies. That's for the film chambers in both states to sort out," he said, adding that the issue of water sharing was 'more important than movies'.
Incidentally, Rajinikanth had supported Kamal Haasan when his Vishwaroopam ran into trouble in January 2013.
However, regardless the fate of his latest release, Rajinikanth remains a factor in Tamil Nadu politics.