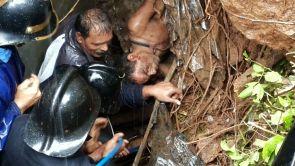 At least two people were killed and one was injured after a landslide in Antop Hill area of the city on Wednesday.
"The deceased have been identified as Sandeep Ramavtar Kevat, 22, and Ramavtar Parvaru Kevat, 45. Salim Sheikh, 27, has been admitted to the Sion hospital with injuries," a BMC official said.
The mishap took place on Mistry Dargah Road near Old Post Office in the Antop Hill area, he said, adding that rescue operations by the fire brigade was on and there is a possibility of a few more people being trapped under the debris.
He said that the landslide also destroyed around six houses.
Six fire engines, two ambulances and one house collapse van are still stationed at the spot, he said.
Photograph: Sahil Salvi/Rediff.com