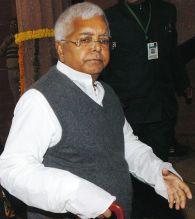 The fate of the controversial ordinance against disqualification of convicted lawmakers appears sealed with Rahul Gandhi today slamming it as "complete nonsense" and which should be "torn up and thrown away".
Party leaders said that it was now a mere formality that the Union Cabinet withdraws the measure after the return of Prime Minister Manmohan Singh from the US.
Congress General Secretary Ajay Maken also gave indications making it clear "Rahul ji's opinion is the opinion and the line of Congress... Now Congress party is opposed to this Ordinance. The views of Congress party should always be supreme."
Maken sidestepped questions on whether Gandhi's remarks meant a "rebellion" against the government or a public snub to Prime Minister Manmohan Singh and his government and whether it has now become a lame duck.
"What Rahul Gandhi said is the most important thing...that this Ordinance will not help us fight corruption," he said.
The refrain in the party is "why should the entire Congress suffer for a lone Lalu and a Rashid Masood?" and that the strong sentiments of people and party workers made Gandhi to denounce the ordinance.
The verdict of a special CBI court in Ranchi in a case pertaining to fraudulent withdrawal of Rs 37.7 crore from the Chaibasa treasury in the early 1990s in a fodder scam case has been fixed on September 30. The ordinance would help Lalu Prasad remain an MP, even if without pay and without voting rights inside Parliament.
The other person who is set to lose his MP position is Congress's Rajya Sabha member Rasheed Masood. He has been held guilty of fraudulently nominating undeserving candidates to MBBS seats allotted to Tripura in medical colleges across the country from the central pool. The quantum of punishment against Masood will be pronounced on October 1.
In fact, the question on the ordinance was put to the Congress vice president two days back during an interaction with editors in Pune. Gandhi had chosen not to react, but some participants felt the unease in him over the issue, a leader said.