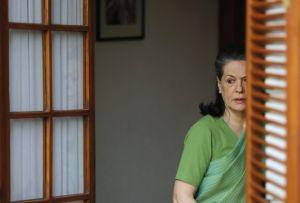 Sonia Gandhi declined to become prime minister in 2004 because of strong opposition from her son Rahul Gandhi who was afraid she would be killed like his father and grandmother if she accepted the post, former External Affairs Minister K Natwar Singh claimed.
Singh, 83, an estranged Gandhi family friend who quit the Congress in 2008 after he had to resign from the UPA-I Government in 2005 in the wake of the Iraqi food-for-oil scam, claimed that it was not Sonia's "inner voice" that prevented her, as she had stated at the time, to take up the PM's post
To persuade him from not referring to this particular episode in his autobiography, the Congress president along with her daughter Priyanka Gandhi met him on May 7 at his residence but he decided to disclose facts as they were and tell the "truth", Singh claimed in an interview to Karan Thapar on Headlines Today.
The book titled "One Life is Not Enough: An Autobiography" is due to be released soon.
"Rahul was totally against her mother becoming prime minister. He said she would be killed like his father and grandmother and as a son he would not allow her to become the PM. He was very adamant," Singh said, recalling a May 18, 2004, meeting where Manmohan Singh, Gandhi family friend Suman Dubey, Priyanka and he were present.
Manmohan Singh later went on to become the prime minister.
Rahul's opposition was conveyed to them by Priyanka, he said.
"As a son full marks to Rahul," he said. Rahul was 34 years at that time.
Singh claimed that Sonia also said "sorry" to him at their May 7 meeting after he narrated how he was victimised by the UPA government and refused to believe her claim that she was not aware of it.
"She said I did not know (about treatment meted out to him). I said nobody will buy it because nothing happens in Congress without your knowledge, without your approval. Same is the case with government. She said I am sorry," he said, adding that the Congress president had also embraced him.
Singh endorsed the claim of former prime minister Manmohan Singh's media adviser Sanjaya Baru that important government files were taken to Sonia by Pulok Chatterjee, who was in PMO, saying any question of protest over this did not arise as she was the "foremost" leader.
He also disclosed that the then vice president Shankar Dayal Sharma was Sonia's first choice as the prime minister in 1991 but Sharma, who then became President, declined the offer due to his poor health.
It was then she chose PV Narasimha Rao whom she never knew and they could never share warm relations, he said.
Former prime minister Rajiv Gandhi was killed in a LTTE suicide bomb attack in 1991 in Sriperumbudur, near Chennai, while his mother Indira Gandhi, also a former PM, was gunned down by her Sikh security guards at her residence in 1984.
To a question whether left to herself Sonia would have accepted the PM's post after the Congress-led UPA came to power defeating BJP-led NDA in 2004, Natwar Singh said, "it is difficult to answer".
Singh, whose son is a BJP MLA from Rajasthan, rejected the charge that there might have bitterness and revenge in him for the way he was dumped by Gandhis and said he never spoke a word against Sonia in public but "it is important to tell facts as you know them".
"She is a public figure. She is the most important politician in India... She is every biographer's dream. She is a historic figure," he said, adding that such figures have no "privacy".
When asked what if his claim that Rahul's opposition was behind her decision to not become the prime minister was denied by Manmohan Singh and Dubey, he said, "Of course they will. I am aware they will."
He then added, "They could have said it and got away with it if Sonia and Priyanka had not come to me. Period... They did not come to have coffee with me. They did not come to have lunch with me".
He also rated Sonia higher than Rajiv as a politician, saying she is tougher than him. "He was very large-hearted. You cannot take liberties with her," he said.