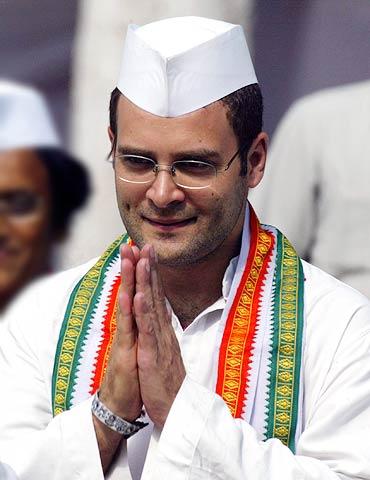 Rahul Gandhi is the future leader of the Congress but the question of their prime ministerial candidate will be decided at an appropriate time, party General Secretary Janardan Dwivedi said on Tuesday amid talk that the Congress vice president would be named as the face of their Lok Sabha poll campaign at the All India Congress Committee meeting next month.
"Insofar as the issue of leadership is concerned, we have been maintaining that the Congress President (Sonia Gandhi) is there. The whole country and the party know that it is Rahul who comes after the Congress president in the party."
"It became all the more clear after he became the party vice president. It is also true that it is him who is the future leader of the Congress," Dwivedi told reporters in New Delhi.
But he added that, "As far as the prime ministerial candidate is concerned, it has to be decided by him (Rahul), the Congress president and party leaders after due deliberations."
Sonia has already said that the name of the Congress prime ministerial candidate will be declared at an opportune time, Dwivedi reminded.
He was responding to questions on whether the AICC meeting scheduled for January 17 could see the party naming Rahul as its PM candidate for the 2014 Lok Sabha polls.
Dwivedi averred that the AICC meeting was a yearly affair, which saw deliberations over issues related to the party.
When reminded that it was at an AICC meeting in January this year, following the Chintan Shivir, where the party had endorsed Rahul's name as its PM candidate, Dwivedi said that the decision then had come after some deliberations.
"In matters of politics... Things are not decided as per mathematical formulae. Here, decisions are taken according to the circumstances. Let us see what happens," Dwivedi said.
"Use your understanding. We have a limitation. From the organisational level, we cannot say any such thing," was his brief response when asked whether such circumstances seemed to be evolving under which Rahul could be named the party's PM candidate.