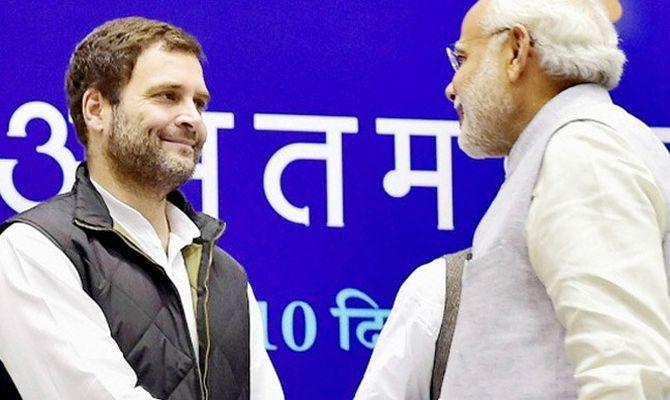 Prime Minister Narendra Modi's acceptance of a "fitness challenge" posed by Indian cricket captain Virat Kohli quickly took political overtones on Thursday as a host of opposition leaders dared him to tackle challenges of unemployment and security with Congress chief Rahul Gandhi leading the charge by asking him to reduce oil prices or face a nationwide agitation.
One of the leaders went to the extent of taking a dig at Modi over his educational qualifications and dared him to post his degrees on Twitter.
While Gandhi dared the prime minister to take the fuel challenge by reducing fuel prices, saying the Congress will otherwise launch a nationwide stir, the party's communications in-charge Randeep Surjewala asked him to tackle challenges pertaining to national security, jobs, corruption and MSP to farmers.
"Dear PM, Glad to see you accept the @imVkohli fitness challenge. Here's one from me: Reduce fuel prices or the Congress will do a nationwide agitation and force you to do so. I look forward to your response," Gandhi wrote on Twitter.
The initiative, called the 'Hum Fit Toh India Fit' challenge, was started by Sports Minister Rajavardhan Singh Rathore, who posted a short video of himself on Tuesday doing push-ups. He tagged Kohli, shuttler Saina Nehwal and actor Hrithik Roshan in the video, challenging them to post their own exercise videos.
Accepting the challenge from Rathore, Kohli had on Wednesday evening extended it further to his wife and actress Anushka, Prime Minister Modi and cricketer Mahendra Singh Dhoni.
In the morning, Modi accepted Kohli's challenge in a tweet and said, "I will be sharing my own fitness challenge video soon."
Rashtriya Janata Dal leader Tejashwi Yadav said before taking up the fitness challenge Modi should first dare to fill empty stomachs and provide jobs to the unemployed in the country.
The former deputy chief minister of Bihar also asked Modi if he can promise "no violence against Dalits and minorities".
"Would you accept my challenge Narendra Modi Sir?"
Communist Party of India-Marxist leader Sitaram Yechury also tweeted using 'just jumlas' as hashtag, "Modi's tryst with crude prices should remind us of that old dictum: 'You know who is swimming naked when the tide runs out.' Now he is trying to distract us with newer tamashas like fitness challenge."
Rebel Janata Dal-United leader Sharad Yadav reminded the prime minister of his 'promise' to bring back black money stashed abroad asking him to deposit Rs 15-20 lakh in the accounts of every Indian.
"Dear Narendra Modi, I challenge that as promised by you before coming to power to bring back black money stashed abroad to deposit Rs 15-20 lakh in the account of each citizen. Kindly accept my challenge," he said.
Congress spokesperson Abhishek Singhvi posed "Tuticorn challenge" to Modi saying fitness challenges has priority enough in his mind, "but unfortunately the prime minister, government of India, ruling party president you are all running on a treadmill but not getting anywhere."
"You may be all fit for cameras or fit for 'jumlas' but are you fit for governance, the answer is clearly 'No' because both the government and governance has retired hurt," he said.
It is strange that the prime minister maintains silence on challenges of Tuticorin and women security, but has time to throw a counter-challenge on fitness, Singhvi said adding "this is deplorable and this reflects the mindset of this Government."
Congress leader Ashok Gehlot asked the prime minister to respond to the challenge posed by Rahul Gandhi. "Waiting for PM's response to Rahul ji's challenge," he said.
His party colleague Shashi Tharoor posed a "compassion challenge" to Modi while referring to the killing of 11 people in police firing as they were protesting against a project in Tamil Nadu's Tuticorin.
Tharoor said Modi felt sorry for Americans following a shootout in Orlando in the United States in 2016, but has allegedly been silent on the Tuticorin violence.
He also took a swipe at Modi saying, "If running on a treadmill was the only way to recharge our phones we would be the healthiest on the planet".
Congress leader Sanjay Jha challenged him to tweet his degrees after he tweeted his on the social networking site.
"Dear Mr Modi, I am putting up my BA, MA and MBA degrees here. Are you ready for the 'DegreeFitHaiChallenge'? I await your response with high expectations," Jha tweeted.
Surjewala said, "Please accept the fitness challenge to restore the economic fitness of common man by reducing the runway prices of petrol/diesel as you fleeced Rs 10 lakh crore in 4 years by raising excise 11 times. Restore the job fitness of young by giving 2 crore jobs as promised."
He also asked the PM to take up the challenge of national security fitness by stopping Pak-sponsored terrorism and Chinese incursion in Doklam, next to the Arunanchal border and elsewhere.
"Nation must come first. Please forego the media stunts and accept the governance challenge," he said.
Surjewala also challenged the prime minister to grant remunerative prices to farmers for their produce and bring back the Rs 80 lakh crore black money stashed abroad.
"Dear PM, please accept the fitness challenge to grant 'MSP Fitness' of cost+50pc profit to India's farmers as you promised...'anti corruption fitness' by bringing back Rs 80 lakh crore of black money from abroad as you promised and punishing the corrupt in your government for various scams," Surjewala also said on Twitter.