The Congress vice president attacked Prime Minister Narendra Modi and the Bharatiya Janata Party, alleging that 'politics of divide and polarisation is radicalising and isolating people in India'.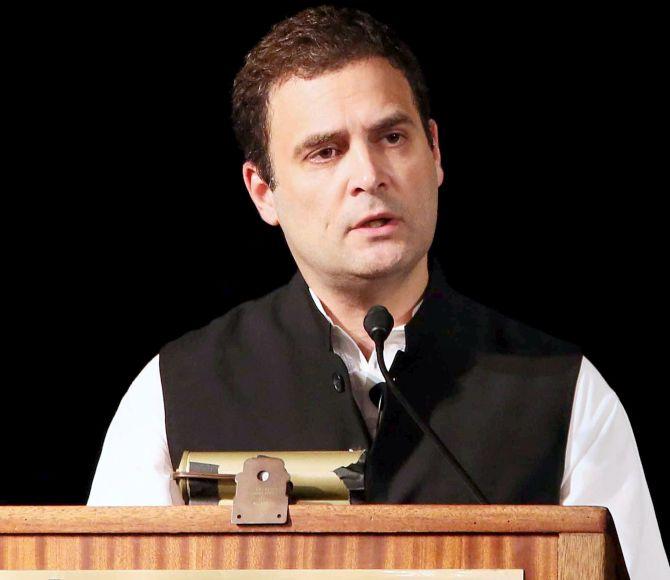 IMAGE: Congress vice president Rahul Gandhi delivers a speech at Institute of International Studies at UC Berkeley, California on Monday. Photograph: PTI Photo
Congress vice president Rahul Gandhi on Tuesday criticised Prime Minister Narendra Modi's economic policies, accusing him of causing 'tremendous damage' to India's economy with 'reckless and dangerous' decisions like demonetisation and 'hastily-applied' goods and services tax.
Gandhi, 47, who arrived in the United States on Monday on a two-week-long tour, addressed students at the University of California, Berkeley, to reflect on contemporary India and the path forward for the world's largest democracy.
He said the November 8 demonetisation decision was taken without asking the chief economic advisor and Parliament, which caused tremendous damage to the economy.
Demonetisation, he alleged, imposed a devastating cost on India.
"Ignoring India's tremendous institutional knowledge and taking such decisions is reckless and dangerous," he charged.
He said 30,000 new youngsters were joining the job market every single day and the government was only creating 500 jobs a day.
"This does not include the massive pool of already employed youngsters," he said.
"The decline in economic growth today is leading to an upsurge of anger in the country. The government's economic policies demonetisation and hastily-applied GST have caused tremendous damage," he alleged.
Goods and Services Tax, a tax regime which combines all of India's states and union territories into a single market, was launched at midnight on June 30.
Gandhi also accused the government of wiping out millions by demonetisation.
"Millions of small businesses were simply wiped out as a result of the demonetisation, farmers and many who use cash were hit extremely hard. Agriculture is in deep distress and farmers suicides have skyrocketed across the country."
Finance Minister Arun Jaitley, however, had said the fallout of demonetisation was on predicted lines and the economy will benefit in medium and long term.
Jaitley's remarks came after the Reserve Bank of India said that 99 per cent of the demonetised currency came back into the system. Jaitley had also insisted that money getting deposited in banks does not mean that all of it is legitimate.
But Gandhi described demonetisation 'a completely self- inflicted wound' that caused approximately 2 per cent loss of the GDP.
India, the Congress leader said, cannot afford to grow and create jobs at the current rate.
"If we continue at the current rate, if India cannot give the millions of people entering the job market employment, anger will increase and it has the potential to derail what has been built so far. That would be catastrophic for India and the world beyond," Gandhi warned.
The Congress vice president said that the central challenge for the country today is creating jobs.
Noting that roughly 12 million young people join the Indian job market every year with nearly 90 per cent of them having a high school education or less, Gandhi said India, being a democratic country, cannot follow the Chinese model of coercion.
"Unlike China it has to create jobs in a democratic environment," he said, adding that India does not "want China's coercive" instruments.
"We cannot follow the model of massive factories controlled by a few," Gandhi said.
Jobs in India, he said, are going to come in from small and medium scale industry.
India, he asserted, needs to turn colossal numbers of small and medium businesses into international companies.
Alleging that currently all the attention in India is being paid to the top hundred companies, he said: "Everything is geared towards them, the banking systems are monopolised by them and the doors of government are always open to them."
"And laws are shaped by them," he said, adding that entrepreneurs running small and medium businesses are struggling to get bank loans.
"They have no protection and no support. Small and medium businesses are the bedrock of India and the world's innovation. Big businesses can easily manage the unpredictability of India. They are protected by their deep deep pockets and connections," he said.
India, he said, has triggered a massive process of human transformation.
The momentum is so powerful that India's failure is no longer an option, he said.
"Our success impacts the world," Gandhi said, warning that this momentum can be destroyed by "hatred, anger and violence".
"The politics of polarisation has raised its ugly head in India," he said, adding that liberal journalists are being shot.
He was apparently referring to rights activist and journalist Gauri Lankesh's killing.
"People being lynched because they are Dalit," he alleged.
"Muslims were killed on suspicion of eating beef. This is new in India and damages India very badly."
He said the politics of hate divided and polarised India and was making millions of people feel that they have no future in their own country.
"In today's connected world this is extremely dangerous," he said.
Gandhi at the same time also acknowledged that Prime Minister Narendra Modi is a better communicator than him.
"I'm an opposition leader. But Mr Modi is also my prime minister. Mr Modi has certain skills. He's a very good communicator. Probably much better than me. He understands how to give a message to three or four different groups in a crowd. So his messaging abilities very subtle and very effective," Gandhi said.
He was responding to a question on what does he think about Modi as the prime minister.
"What I sense is that he doesn't converse with the people he works with. Even members of Parliament of the BJP come to me and tell me that sunte nahi hain (he does not listen to us)," Gandhi added.
He said Modi must speak to the people who work with him.
"I mean there is a lot of information that the opposition for example has. He is not really interested in that input. So that is what has been going on," he said.
Gandhi described Modi's flagship policies like 'Make in India' and 'Swachh Bharat' as a good idea.
"On what they have done well? What I like? I like the concept of 'Make in India'. But the orientation of 'Make in India' is slightly different than what I would. So, the orientation of Make in India is big business and a lot of it is defence. My orientation of 'Make in India' would be small and medium businesses," he said.
Gandhi said he would like to carve out space for small and medium businesses and bring in experts from Silicon Valley and take these small and medium businesses and transforming them into global companies.
"Swachh Bharat is something that Mr Modi likes. The idea of hygiene I think is a good one. And I think I think the sort of stuff that they are doing on open defecation is not a bad thing," Gandhi said.
The Congress vice president said the impression that he was a reluctant politician was a result of the campaign against him by the other political camp.
"There is a BJP machine about a thousand guys sitting on computers that basically tell you about me," he said as the audience burst into laughter.
"They tell you, I am reluctant, I'm stupid. They tell you all these things," he said amidst another round of laughter and applause.
"All they do is spread abuse about it. And the operation is basically run by the gentleman who is running our country," Gandhi said.
Responding to a question, Gandhi said the country needs political reform.
"Administrative reform is important. But much more important than administrative report is actually political reform. Today, the real problem in India is that our political machine.. they are not empowered the way they should be... The laws in India are made by the ministers and five or six people surrounding the minister.
"And until you make that process transparent and out into the open, you are not really going to transform the system," he said.
He said the lawmakers who should be formulating policies are today more worried about building roads.
"Today our MPs don't make laws. They are worried about building roads in villages. And they get punished for not building roads in villages. They should be making laws. They should be empowered to make laws. That's their job. And that is the fundamental thing that has this gone wrong in India," he said.
'Ready to take up executive role in Congress'
Rahul Gandhi said that he was "absolutely ready" to take up an executive responsibility if the party asked him to do so.
Gandhi said around 2012 the Congress Party "stopped having conversations with people".
He said this could be a problem for any party which is in power for 10 years.
"The vision that we laid out in 2004 was designed at best for a 10-year period. And it was pretty clear that the vision that we laid out in 2004 by the time we arrived in 2010-11 was not working anymore," the 47-year-old leader said.
"Somewhere around 2012, and I say this, a certain arrogance crept into the Congress party. And they stopped having that conversation."
When asked if he wanted to take up an executive role in the Congress Party, he responded by saying, "I am absolutely ready to do that".
However, he quickly left the decision on his party.
"We have an organisational election process that decides that. And that process is currently ongoing. So we have an internal system where we elect certain delegates who make that decision. So for me to say that that decision is mine that wouldn't be very fair.
"That's a decision that the Congress Party has to make and that's a process that's currently going on right now," he said.
'Dynastic politics a problem for most Indian political parties'
When asked whether the Congress party was more associated with dynastic politics, Gandhi said that dynastic politics is a "problem" for most political parties in India, but maintained that a large number of people in his party did not have a dynastic background.
At the same time, he said that a person's background does not determine his capabilities.
Responding to an question whether the Congress party was more associated with dynastic politics, Gandhi argued that India is being run by dynasties.
"Most parties in India have that problem So...Mr Akhilesh Yadav is a dynast. Mr Stalin (son of M Karunanidhi in DMK) is a dynast... even Abhishek Bachchhan is a dynast. So that's how India runs. So don't get after me because that's how they India is run. By the way, last, I recall, Mr Ambanis are running the business. That's also going on in Infosys. So that's what happens in India," he said as he listed several prominent Indians born into famous families.
But, he said there were a large number of people in the Congress Party who were not from dynastic families.
"And I can name them in every state. There are also people who happen to have a father, or a grandmother or a great grandfather in politics. They do exist," he said.
"The real question is whether the person actually a capable and a sensitive person," he said.
'Modi opened up space for terrorists in Kashmir'
Accusing Prime Minister Narendra Modi of "massively opening up" space for terrorists in Jammu and Kashmir, Rahul alleged that the decision by Modi for the BJP to have a political tie up with the Peoples Democratic Party was a "strategic mistake".
"The PDP was the instrument that brought Kashmiri youngsters into the political process. And the day Mr Narendra Modi made an alliance between the PDP and the BJP, it destroyed the PDP as an instrument that could bring youngsters into the political system.
"And the day he did that, he massively opened up space for terrorists in Kashmir and they came in. And you saw a massive increase in violence," Gandhi said.
Gandhi said the intelligence personnel in Jammu and Kashmir told him that a large number of members of the PDP have suddenly gone towards the militants.
"When you take these strategic decisions to take a little bit of political advantage, you do tremendous damage to the country. Today the space in Jammu and Kashmir has been opened up, not only for the Pakistanis, but for other players in the region. And it is going to impose a massive, massive strategic cost on India," said Gandhi.
Gandhi claimed that for nine years, he had worked behind the scene with the Prime Minister Manmohan Singh to improve the situation in Kashmir.
"The results were there for all to see as militancy was at an all-time low and tourism flourished in Kashmir," he said.
After the 2014 elections, the PDP and the BJP tied up an alliance to form a government in the state.