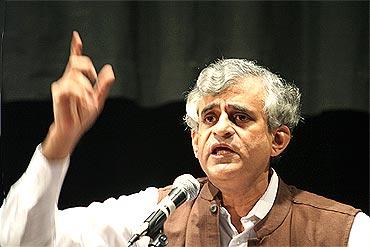 Magsaysay Award-winning journalist P Sainath on Thursday said the ABC of the dominant media and big business was Advertising, Bollywood and Corporate power.
Addressing the annual lecture of Sophia Polytechnic's social communication media department on the 'Catalyst for change', Sainath, who was to speak on 'Paid News', however said, "I am sure you all want to know my views on the Radia tapes and so will briefly dwell on that before I go into the main topic."


The best example of dominant media and big business cosying up, he said, was the Indian Premier League. "Only when there was internal feuding did the bad news come out."

According to Sainath, the Radia tapes had lead actors, main villains, supporting cast and extras. "Journalists are a comic relief there, journalists think they rule the country, thankfully they don't. It is serious journalistic misconduct."

Corporate lobbyist Niira Radia's telephone was tapped in mid-2009, around the time the United Progressive Alliance government assumed power, by the income tax department, and the transcripts, which were leaked recently, showed her lobbying on behalf of A Raja with a cross-section of influential people, from journalists to corporate titans. Radia represented both Mukesh Ambani and Ratan Tata, and effort was to keep the Dravida Munnetra Kazhagam's Dayanidhi Maran out of the telecom portfolio and to ensure that it went to Raja – who is facing heat over under-selling 2G spectrum to telecom companies.
"Speaking about the Radia tapes, Tata Sons chairman Ratan Tata warned us against crony capitalism -- that was amusing. He went onto say, 'India should not become a banana republic'- I loved it," Sainath commented. "Tata also said that 'bodies of people with lesser power will be found in car trunks'. Sad, for a car manufacturer!"

Tata has since moved the Supreme Court protesting against the invasion of his privacy resulting from the leaks of his telephone conversations. "Tata should not lose sleep over the media, because the dominant media are stenographers to power," Sainath said caustically.

The Radia tapes show corporate lobbying, which has been around for 15 years now he said. "The lobbyist is nothing without corporate backing. Corporates are able to influence cabinet formation."

Talking about the conversations on the tapes Sainath said, "Some of them are boring. One sounds like a waiter taking an order, one shows serious breach of ethics, one is plain bragging. The tapes show corporate power."

He then recalled the trust vote in Parliament the UPA One government faced in July 2008. "That trust vote was controlled by the Ambani brothers," Sainath charged. "Everything belongs to one of the two brothers. Parliament spent an entire session discussing a family dispute between two brothers. Public property -- gas -- who should get it?"

He said as journalists switched jobs between corporates and media, the lines between the two had become blurred.

He said there was still space for honest journalists. "The best kept secrets come out in three days. The tapes have been out for nine months. They became an issue only when two magazines published them. One corporate has used them against another."
Image: Journalist P Sainath addresses Sophia Polytechnic's media students on Thursday | Photograph: Uttam Ghosh