Donald Trump virtually sealed his Republican presidential nomination on Tuesday night as he forced nearest rival Ted Cruz to drop out of the race with an emphatic victory in Indiana and set up a likely November polls clash with Democratic front-runner Hillary Clinton.
Clinton, however, suffered an upset defeat at the hands of Bernie Sanders in Indiana but the outcome was unlikely to slow the 68-year-old former secretary of state's march to the Democratic nomination.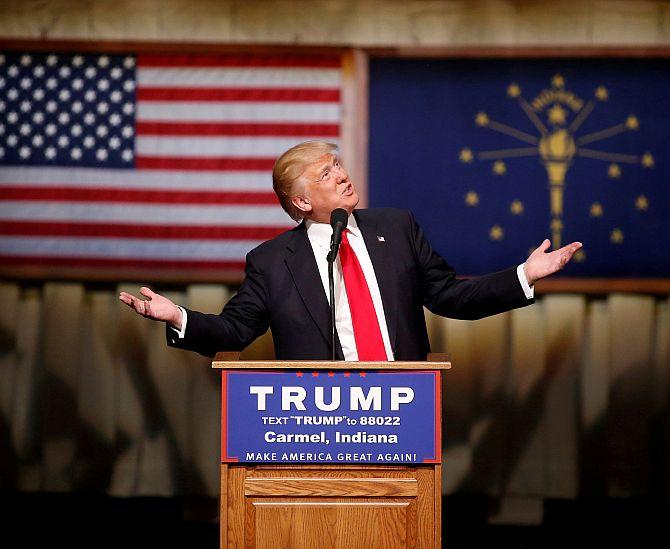 IMAGE: US Republican presidential candidate Donald Trump. Photograph: Aaron P Bernstein/Reuters
"I am honoured to be the presumptive nominee for the Republican Party. It is time to unite our party and defeat Hillary Clinton," Trump said in a message to his supporters after winning the Indiana primary.
Cruz, who has engaged in a bitter and nasty war of words with Trump, announced his decision to drop out of the race even when the counting of votes was still on.
69-year-old Trump, who now needs less than 200 delegates to reach the magical figure of 1,237 delegates to become the Republican presidential nominee still faces opposition from Ohio Governor John Kasich, who has less than 200 delegates.
Kasich has made it clear that he is not dropping out of the race.
After Trump's win, the Republican National Committee chairman Reince Priebus said that Trump would be the presumptive nominee.
"We are going to make America great again," a confident Trump told supporters at his campaign headquarters in New York as he announced to take on Clinton.
"We are going after Hillary Clinton. She will not be a great president. She will not be a good president. She would be a poor president. She does not understand trade," Trump said, giving a brief glimpse of his campaign against the Democratic presidential nominee.
Talking about Cruz, Trump described him as a tough competitor and appreciated his decision to withdraw from the race.
"I want to congratulate Ted Cruz. He is a tough smart competitor," he said of the Texas Senator with whom he had a bitter exchange of words hours before the result of the Indiana primary.
"Ted Cruz is one hell of a competitor. He is an amazing guy. He has got an amazing future. He is one tough competitor," Trump said.
In his speech that lasted for a little less than 20 minutes, Trump talked about uniting the party and focusing on trade and economic issues.
"We are going to bring back our jobs," Trump said as he warned the US companies with "consequences" if they moved out of the country.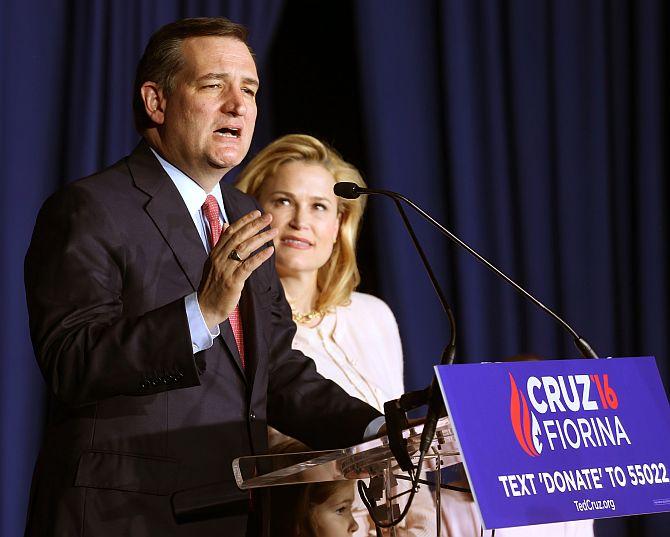 IMAGE: Republican US presidential candidate Ted Cruz announces that he is dropping out of the 2016 race for the Republican presidential nomination as his wife Heidi looks at his Indiana primary night rally in Indianapolis, Indiana, US. Photograph: Chris Bergin/Reuters
Trump, a New York-based real estate mogul who made money from constructing buildings and a popular reality television star, joined politics about 10 months ago with political pundits giving him not much of a chance to make it this far. With 96 per cent of the votes counted, Trump won 53.2 per cent, Cruz got 36.7 per cent while Kasich managed only 7.6 per cent.
On the Democratic side, with 97 per cent of the votes counted, Sanders eked out a win after getting 52.5 per cent votes to Clinton's 47.5 per cent.
"Tonight, I am sorry to say it appears that the path has been foreclosed...the voters chose another path. So with a heavy heart, with boundless optimism for the future of the nation, we are suspending our campaign. I am not suspending our fight to liberty...our movement would continue," Cruz told his supporters in Indianapolis after his crushing defeat.
Standing by his side were his vice presidential partner Carly Fiorina, his parents, wife and children.
However, in his speech, Cruz neither congratulated Trump nor endorsed him. Hours before the primary results, the two were engaged in a nasty exchange of words.
Cruz called Trump an "utterly amoral", "bully", "narcissist" and "pathological liar", Trump returned favours immediately alleging that the Texas Senator is desperate and trying to save his failing campaign.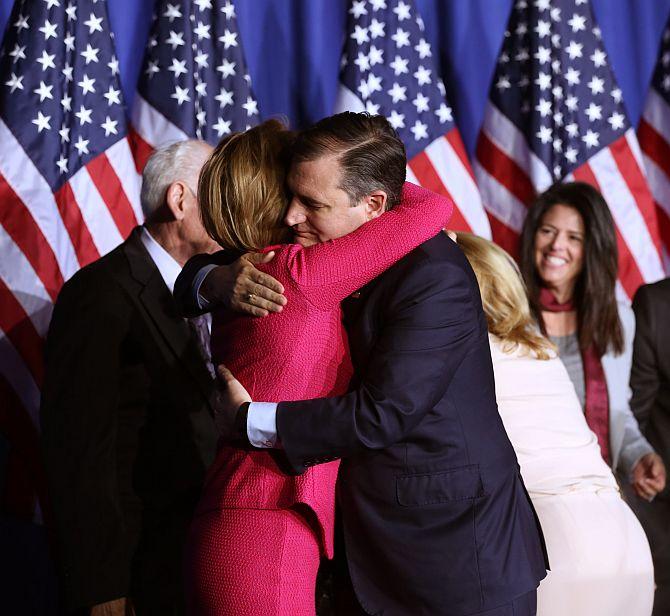 IMAGE: Cruz hugs running-mate Carly Fiorina just before announcing that he is suspending his campaign for president. Photograph: Chris Bergin/Reuters
Trump's victory has been hailed by many as an extraordinary moment in American political history as he is now on course to be the first standard-bearer of a party since Dwight D Eisenhower, a five-star general and the commander of Allied Forces in Europe during World War II, who had not served in an elected office.
Trump was not even a registered Republican until April 2012.
One of the 17 Republican leaders aspiring to be the party's nominee at the start of the race, no one took Trump seriously as they did not expect him to stay in the race to the White House for too long.
However, he has not only remained the front-runner from the first month itself, but since early this year when the primaries began, Trump has shattered the White House dreams of all of them, many of them being Governors and Senators who have been popular and established politicians for decades.
The Republican party leaders have now started to rally behind Trump.
Indian American Bobby Jindal, who himself was a presidential aspirant and a harsh critic of Trump, said that he would vote for the New Yorker in the general elections.
"If he is the nominee, I'm going to be supporting my party's nominee," he told CNN. Late last year, Jindal had described Trump as an "egomaniac" who was "devoid of substance" and "dangerous".
Ari Fleischer, a former press secretary to President George W Bush, tweeted, "There's a lot about Donald Trump that I don't like, but I'll vote for Trump over Hillary any day."
"It's time to focus on beating Hillary. 3rd party candidate would guarantee White House for her. Voters have spoken," said Mississippi RNC Committeeman Henry Barbour.
Trump in his victory speech called for unity in the party.