Did the HRD minister quote something that is often misattributed to the Roman philosopher, in her stinging oration in the Lok Sabha on Wednesday?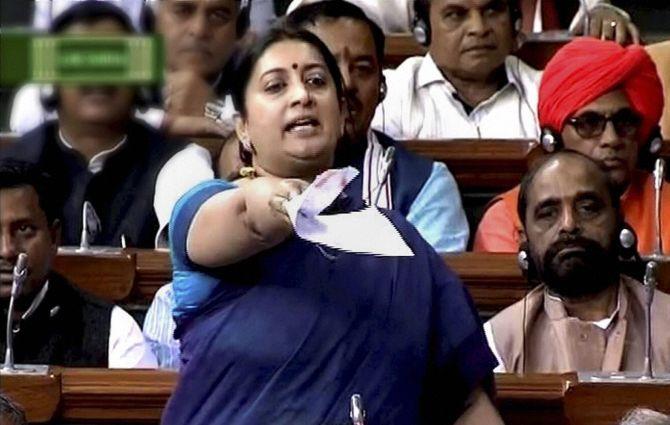 HRD Minister Smriti Irani won much praise for her blistering speech in the Lok Sabha on Wednesday, rebutting the Opposition's charge against the government of muzzling dissent and clamping down on universities.
It was passionate, from the heart, and it struck home.
Among the many statements she made was a popular quote that is often attributed to Roman philosopher Marcus Tullius Cicero (died 43 BC), to wit: 'A nation can survive its fools, and even the ambitious. But it cannot survive treason from within. An enemy at the gates is less formidable, for he is known and carries his banner openly. But the traitor moves amongst those within the gate freely, his sly whispers rustling through all the alleys, heard in the very halls of government itself.'
Why did she quote Cicero? Irani herself provided the answer: 'If I had mentioned Chanakya, I would be accused of being 'saffron', hence I quoted a Roman.'
But... but, a quick search on the Internet provides the exact quote from Cicero.
According to brainyquotes.com, it is this: 'The enemy is within the gates; it is with our own luxury, our own folly, our own criminality that we have to contend.'
The We bsite perseus.tufts.edu says this quote is 'part of the second oration of Cicero against Lucius Catilina, and was addressed to the people.'
'The only plots against us are within our own walls, -- the danger is within, -- the enemy is within...'
'But why are we speaking so long about one enemy; and about that enemy who now avows that he is one; and whom I now do not fear, because, as I have always wished, a wall is between us; and are saying nothing about those who dissemble, who remain at Rome, who are among us?' (M Tullius Cicero. The Orations of Marcus Tullius Cicero, literally translated by C D Yonge, BA, London. Henry G Bohn, York Street, Covent Garden. 1856.).
Wikipedia nails it when it says that the quote as said by Smriti Irani is a popular paraphrase from a 1965 essay by Florida supreme court justice Millard Caldwell, which goes: 'A nation can survive its fools, and even the ambitious. But it cannot survive treason from within. An enemy at the gates is less formidable, for he is known and he carries his banners openly against the city. But the traitor moves among those within the gates freely, his sly whispers rustling through all the alleys, heard in the very halls of government itself. For the traitor appears no traitor; he speaks in the accents familiar to his victims, and he wears their face and their garments, and he appeals to the baseness that lies deep in the hearts of all men. He rots the soul of a nation; he works secretly and unknown in the night to undermine the pillars of a city; he infects the body politic so that it can no longer resist. A murderer is less to be feared. The traitor is the carrier of the plague.'
Searching for Cicero's wisdom, we stumbled on to this link, which provides some of the best utterances by the philosopher. For the benefit of our political class who may wish to quote him in future, here are some:
Should one stay in one's country even if it is under totalitarian rule?
Is it justifiable to use any means to get rid of such rule, even if they endanger the whole fabric of the state? Secondly, do precautions have to be taken to prevent the liberator from becoming an autocrat himself?
If one's country is being tyrannised, what are the arguments in favour of helping it by verbal means and when occasion arises, rather than by war?
Is it statesmanlike, when one's country is under a tyranny, to retire to some other place and remain inactive there, or ought one to brave any danger in order to liberate it?
If one's country is under a tyranny, is it right to proceed to its invasion and blockade?
Ought one, even if not approving war as a means of abolishing tyranny, to join up with the right-minded party in the struggle against it?
Ought one in matters of patriotic concern to share the dangers of one's benefactors and friends, even if their general policy seems to be unwise? (Letters to Atticus 9.4, in Selected Works, p. 80)