Bihar! The state goes to the polls next year.
Narendra Modi has chosen a Bhumihar, Rajput and Yadav as his ministers from the state. M I Khan reports.
Giriraj Singh, the Bharatiya Janata Party MP from Nawada in Bihar and newly minted Union mantri, is probably better known than the other two ministers from his state who were inducted into the Narendra Modi ministry on Sunday, November 9.
His controversial statements -- including the notorious one made at the height of the 2014 Lok Sabha election campaign that Indians who were opposed to Modi could move to Pakistan -- have earned this leader name recognition, and some obvious distaste.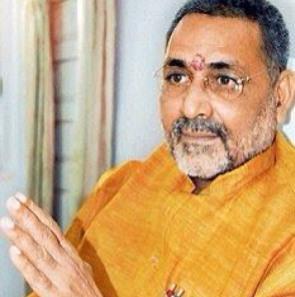 Singh, left, hails from the powerful upper caste Bhumihar community that has a strong grip over Bihar's socio-economic structure and politics.
In 2012, when he was Bihar's animal husbandry minister -- the BJP was then in an alliance with the Janata Dal-United -- Singh had dared chief minister Nitish Kumar to sack him, insisting he would continue to support Narendra Modi, then Gujarat's chief minister.
He also questioned Nitish Kumar's decision to return the money Gujarat had given Bihar for flood relief, and highlighted his status as a Modi-bhakt by going on a day-long fast when the Gujarat chief minister observed a fast in 2011.
Singh, who is usually clad in a saffron kurta with a tikka on his forehead and a sikha (a pony tail), angered Nitish Kumar and JD-U national President Sharad Yadav -- who had turned down Narendra Modi's offer to campaign for the BJP-JD-U alliance for the 2010 assembly election -- bu inviting the Gujarat leader to campaign in his constituency.
A few weeks after he won the Lok Sabha election from Nawada in May, Giriraj Singh plunged into financial controversy when Rs 1.14 crore (Rs 11.4 million) and $600 in cash and jewellery reportedly stolen from his home was recovered by the Bihar police.
When the JD-U and Rashtriya Janata Dal created a ruckus in the state assembly demanding his arrest, Singh claimed the money recovered belonged to a cousin. In his complaint to the police Singh also said only Rs 50,000 had been stolen. By the way, in his affidavit filed before the Election Commission, Singh stated he only had about Rs 200,000 in cash.
Until early this year Ram Kirpal Yadav was known as his mentor RJD President Lalu Prasad's 'Hanuman.'
Bihar citizens, cutting across caste, party and religious lines, describe Ram Kirpal Yadav as a down to earth leader who is always ready to help people, both in bad times and good.
It was Lalu's love for his daughter Misa Bharati which forced his long-time loyalist Ram Kirpal to join the BJP. Lalu had promised Ram Kirpal the Patliputra Lok Sabha constituency, but instead decided to field his eldest child.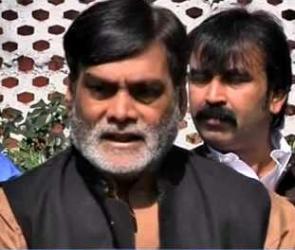 That decision ruptured a 30-year association; Ram Kirpal Yadav, left, joined the BJP in March, endorsed Narendra Modi as 'the man India is looking up to,' and handed Misa Bharati a humiliating defeat in the Lok Sabha election.
Another BJP MP who vanquished the other member of the Lalu family in the Lok Sabha fray this summer was also made a minister on Sunday.
The colourful Rajiv Pratap Rudy defeated Mrs Lalu, Rabri Devi, in the Saran Lok Sabha constituency in north Bihar.
Rudy, who flies Indigo Airlines planes when he is not politicking, is a qualified Airbus A320 pilot.
Quick on the verbal draw and consequentially a regular talking head on nightly news television, Rudy -- who was hoping for a ministry in May -- informed the twitterati about his induction as a minister of state with independent charge on Sunday morning.
A lawyer who once taught at Magadh University in Bihar, Rudy was first elected to the Bihar assembly from Taraiya on a Janata Dal ticket in 1990; he joined the BJP in the mid-1990s.
After consecutive defeats at Lalu Yadav's hands in the 2004 and 2009 Lok Sabha elections from the Chhapra constituency, Rudy tasted success from the newly named Saran seat (which incorporates the old Chhapra constituency) in May.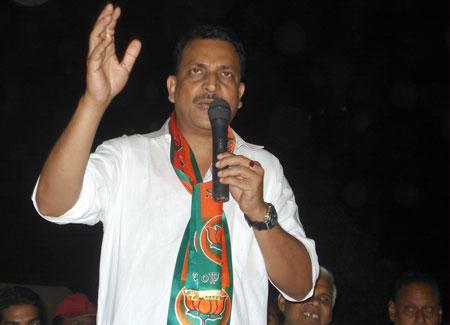 Commerce and industry minister (September 2001 to May 2003) and civil aviation minister (May 2003 to May 2004) in Atal Bihari Vajpayee's National Democratic Alliance government, Rudy, left, is a Rajput from Bihar a state which goes to the polls next year.