Keeping its promise to provide succour to refugees from neighbouring countries, the National Democratic Alliance government has approved additional facilities for members of minority communities living in India on long-term visa that include opening bank account and power to purchase properties.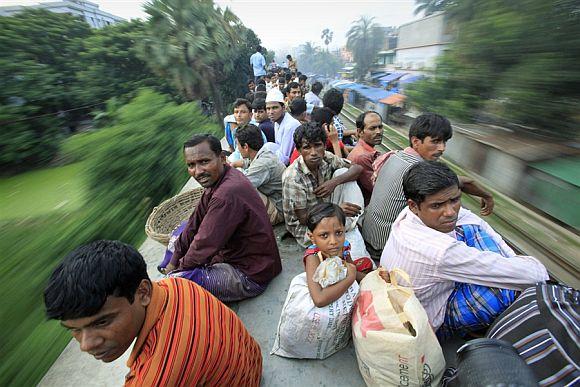 The home ministry in a statement on Saturday said that the central government has extended certain facilities in last two years to persons from minority community of Afghanistan, Bangladesh and Pakistan.
Hindus, Sikhs, Buddhists, Jains, Parsis and Christians staying on Long Term Visa in India are allowed to submit affidavit in place of renunciation certificate, granted LTV for five years instead of two years and facilities for education and employment.
In order to provide them fair opportunities for a more comfortable living and hassle-free movement and pursuit of economic activities within the territory of India, government has decided to extend additional facilities to this class of LTV holders.
The additional facilities include permission to open bank account, permission for purchase of property for self occupation and suitable accommodation for carrying out self–employment, permission to take self-employment, issuance of driving licence, PAN card and Aadhar number.
Allowing free movement within the State/UT where they are staying, transfer of LTV papers from one state to other, reduction of penalty amount to Rs 100, Rs 200 and Rs 500 instead of existing amount of $30, $130, $230 on non–extension of short-term Visa/LTV.
The refugees are also allowed to apply for LTV from the place of present residence when the applicants have changed place without permission.
Ever since the Narendra Modi government came to power, several concessions have been offered to the persecuted Hindus and Sikhs of the neighbouring countries.
Besides, the home ministry also organised special camps at district level in Gujarat, Madhya Pradesh, Rajasthan, Uttar Pradesh, Karnataka, Maharashtra, Andhra Pradesh, Haryana and NCT of Delhi for granting LTV and citizenships.
Children of refugees on LTV are allowed to take admission in schools/ colleges/ universities/ technical and professional institutions under foreigner quota without permission from the state government/UT administration.
State governments/ UT administration are empowered to grant permission to such people to engage themselves in employment of purely private nature.
PM Modi had, during the Lok Sabha poll campaigning in 2014, made a distinction between Hindu and Muslim refugees from Bangladesh arguing that the former should be accommodated.
"We have a responsibility towards Hindus who are harassed and suffer in other countries. India is the only place for them. We will have to accommodate them here," he had said.