The high-voltage campaign for the February 4 assembly elections in Punjab came to an end on Thursday evening following hectic campaigning by various political parties.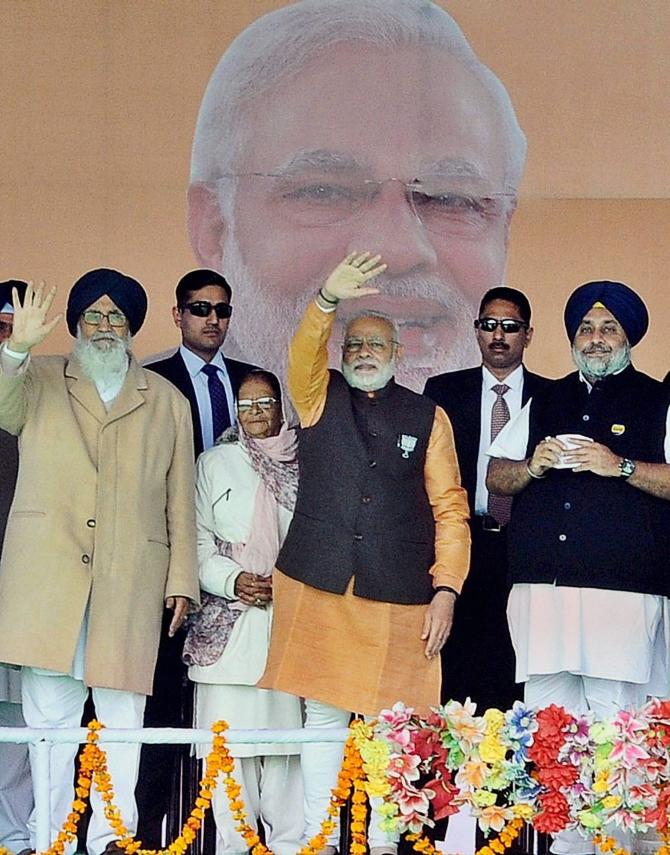 IMAGE: Prime Minster Narendra Modi and Punjab CM Parkash Singh Badal waves during a BJP-SAD rally at Kotkapura in Faridkot. Dy CM Sukhbir Singh Badal is also seen. Photograph: PTI Photo
Congress Vice President Rahul Gandhi on Thursday wrapped up his campaign during which he kept up the offensive against ruling Shiromani Akali Dal-Bharatiya Janata Party combine and other rivals who gave back in equal measure.
The SAD-BJP combine is up against Congress and Arvind Kejriwal-led Aam Aadmi Party which is fighting state polls for the first time.
The execution will witness key contests featuring several political stalwarts like Chief Minister Parkash Singh Badal, Deputy CM and SAD chief Sukhbir Badal, state Congress chief and former CM Amarinder Singh, cricketer-turned-politician Navjot Singh Sidhu who left BJP for the Congress, and AAP leader Bhagwant Mann.
Key campaigners since the announcement of elections to the 117-member Punjab Assembly on February 4, included Prime Minister Narendra Modi.
Others included Delhi chief minister Kejriwal, BSP chief Mayawati, union home minister Rajnath Singh and a number of central ministers and senior leaders of various parties including Congress, SAD-BJP alliance and the BSP.
The key issues during the campaigning included drugs, river water issue including SYL canal, cancer in parts of the state, law and order, sacrilege of Guru Granth Sahib, farm debt, farmer suicides, and development.
The thrust of canvassing at the fag end of electioneering was in the Malwa region of Punjab comprising 69 assembly seats.
The dust settled at 5 pm when the loudspeakers went silent as parties asked their cadre to get on with the job of door-to-door campaign for persuading the voters for voting which will commence at 7 am on Saturday.
Modi unleashed a poll blitzkrieg addressing two rallies -- Jalandhar and Kotkapura -- in the state where he sought votes for SAD-BJP on development plank and stable government in the border state where Pakistan is trying to disturb the peace.
Modi attacked Congress accusing it of forging an alliance with Samajwadi Party (SP) in Uttar Pradesh and Communist Party in West Bengal for "lust for power". He also described Congress as a "boat which had already sunk".
On the other hand, Rahul took the campaign to pocket boroughs of the ruling Badals, including Lambi, Majitha, and Jalalabad, taking on the opposition over dynastic politics and corruption.
Rahul also declared Punjab Congress chief Amarinder as the party's chief ministerial candidate.
He said Punjab, a front ranking state, had fallen behind as the ruling Akalis had allegedly plundered it to serve themselves, even as he raked up the drugs issue promising tough laws to tackle the scourge if the party comes to power in the state.
In Sukhbir's home constituency, Rahul called the junior Badal as a "symbol of corruption" and asked Modi to clear if he was fighting against corruption then why was he seeking votes for the "corrupt".
New entrant AAP, which has converted the contest between ruling SAD-BJP alliance and the opposition Congress into a triangular fight in all the 117 assembly seats, accused SAD and Congress of hobnobbing with each other and vowed to put the Badal family in jail on the issue of drugs.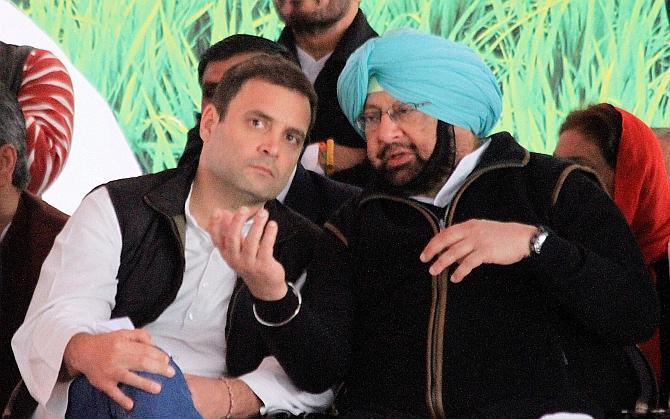 IMAGE: Congress Vice President Rahul Gandhi with PPCC president and party's Punjab CM candidate Captain Amarinder Singh at an election rally in Jalalabad Fazilka district. Photograph: PTI Photo
Hema Malini, Rajnath, Union Finance Minister Arun Jaitley, Smriti Irani, Anurag Thakur and Manoj Tewari held series of poll meetings for the SAD-BJP alliance candidates in the state.
The fort for Congress was held by Rahul, Amarinder and new entrant Sidhu.
Making the drug menace as a key issue for the party, Rahul and Amarinder assured the people to end the menace within four weeks after formation of the government.
AAP supremo Kejriwal remained engrossed in high octane campaigning in the entire state. Besides, his party men Manish Sisodia, Sanjay Singh, Mann and Gurpreet Singh Ghuggi led from the front to ensure victory of their party nominees.
Punjab with over 30 per cent Dalit population also saw BSP supremo Mayawati hitting the campaign trail for her party candidates.
From humour-laced 'jumlabaazi' and twisting of abbreviations to cutthroat trading of barbs, the no-holds-barred Punjab polls saw it all even as it threw up a new
lexicon of political jibes amid a game of oneupmanship.
To be held in a single phase, the polls saw an amusing war of words among the various leaders who used, by turns, acerbic wit and direct attacks to pin down their opponents in the electoral arena.
Soon after the announcement of the election dates in early January, the daggers were drawn and pitched verbal battles ensued.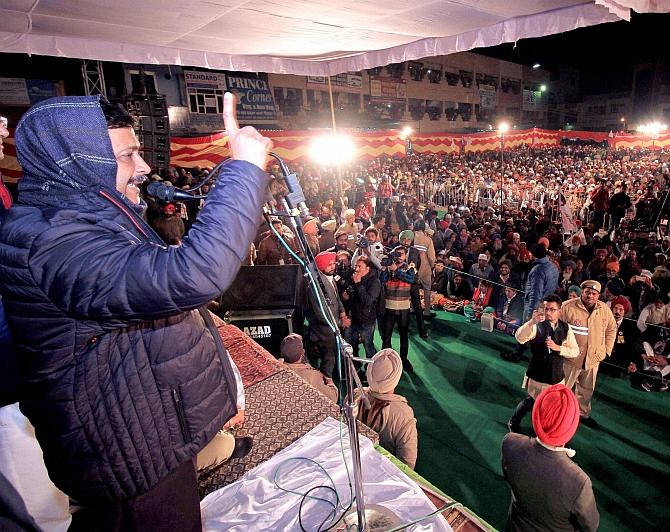 IMAGE: Delhi chief Minister Arvind Kejriwal addressing an elections rally in Bathinda. Photograph: PTI Photo
The war of words was waged on social media too with unflattering hashtags on Facebook and Twitter.
Barely two days before the poll campaign was to end, six people were killed in a car blast that took place at Maur Mandi in Bathinda, near the venue of the poll campaign of a Congress candidate Harminder Jassi who is a relative of Dera Sacha Sauda head Gurmeet Ram Rahim Singh.
While in their preliminary investigations, the Punjab police did not rule out the incident as an act of terror, however, parties in the state indulged in blame game over the incident.
Chief Minister Badal said that incidents of sacrilege of Guru Granth Sahib and the bomb blast in Maur Mandi could be links in the same chain and a part of a deep rooted conspiracy to divide Punjabis against Punjabis and ruin the hard earned atmosphere of peace and communal harmony in the state.
After the incident, AAP directly blamed Deputy Chief Minister Sukhbir for the blast and series of sacrilege incidents and demanded his immediate arrest for "peaceful elections".
Union Minister and SAD's Bathinda MP Harsimrat Kaur Badal said the explosion at Maur was "a wakeup call for Punjabis to reject both AAP and Congress and vote in the SAD-BJP alliance which was committed to maintaining peace and communal harmony in Punjab at all costs".
On the other hand, Rahul and Amarinder held Kejriwal squarely responsible for allegedly promoting extremist forces such as the Khalistan Commando Force (KCF) in the state, and said the bomb blast in Bathinda showed that the inoperative terror cells of the Khalistanis were again getting active.
Amarinder said Kejriwal, who had himself stayed at a KCF extremist's house in Punjab, was fanning terror forces through his actions, led by the dangerous mix of the AAP's extreme left and extreme right ideologies.
It was only from Punjab in which Kejriwal's outfit won four seats in the 2014 Lok Sabha elections. However, later two MPs were suspended from the party.
Ahead of the polls, political leaders from Punjab cutting across parties had flocked Sirsa-headquartered Dera Sacha Sauda to seek 'blessings'.
While the leaders, many of whom are contesting assembly polls, had maintained there was nothing political about their visit, the Dera, which has a number of followers, especially in the Malwa belt, had announced to support candidates of SAD-BJP combine in the polls.
Key contest on the cards is from Lambi seat where CM Badal, who is seeking another term, is locked in a triangular contest with Amarinder Singh and journalist-turned-politician Jarnail Singh of AAP.
Jalalabad -- a pocket borough of Sukhbir -- is witnessing two sitting MPs Ravneet Singh Bittu (Cong), grandson of late chief minister Beant Singh, and comedian-turned-politician Bhagwant Mann locked in three-way fight against the Deputy CM.
Veteran Congress leader and former Chief Minister Rajinder Kaur Bhattal is fighting it out against finance minister Parminder Singh Dhindsa of SAD from her traditional bastion Lehragagga.
AAP's Himmat Singh Shergill is up against revenue minister Bikram Singh Majithia from Majitha and AAP's Ghuggi from Batala against Congress stalwart Ashwini Sekhri.
Patiala is another seat which is witnessing a close contest between Amarinder and former army chief Gen J J Singh of SAD.
Sidhu is fighting it out from Amritsar East against Rajesh Kumar Honey of BJP.
Badal's estranged nephew Manpreet Singh Badal is trying to return back into main politics from Bathinda Urban seat on a Congress ticket.
Indian Youth Congress Chief Raja Amarinder Singh Warring is testing electoral battle from Gidderbaha.
A total of 1,146 candidates are in the fray for Punjab assembly polls.