Punjab has around 19.7 million voters, of whom 53% are below the age of 40 years. Sahil Makkar reports.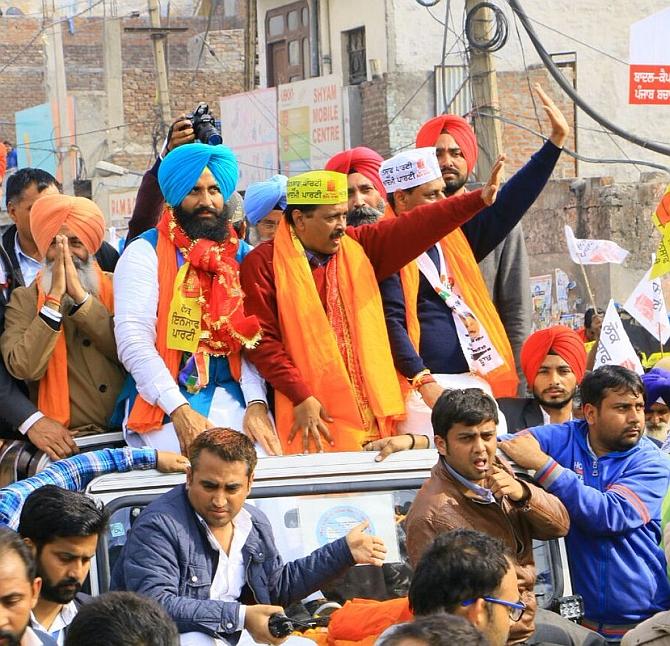 Amandeep Singh, 21, and his friends would be casting their first vote on February 4. They would also be breaking a tradition where parents or elders would decide the preferred candidate for other family members during an election.
Singh wants to go with the new wave, whereas his parents want to stick with the Congress, represented by former Punjab Finance Minister Manpreet Badal at Bhatinda. Deepak Bansal, a youngster who failed to crack the UPSC exams in two attempts, is contesting from the Aam Aadmi Party.
"Times have changed. We youngsters want someone new," Singh says, seated outside the kite shop of his friend, Sanjeev Singla, 28.
"I am a postgraduate and selling kites for my livelihood. I would be again jobless once the kite season is over. I need a permanent job and I am hopeful the AAP government would help me," adds Singla.
The friends spoke minutes after Badal shook hands with them and sought their votes.
Badal, however, was confident he would win.
"It is a traditional Congress seat."
Punjab has around 19.7 million voters, of whom 53 per cent are below the age of 40 years.
Another 47 per cent are above 41 years, an almost equally divide between youth and elderly.
Data suggests till 2012, people of all age groups were equally divided between the Shiromani Akali Dal and the Congress.
With AAP joining the fray, it is expected that both traditional parties, especially the SAD, would lose a substantial chunk of their youth voters, which has the traditional voters of SAD worried.
"Nayi hawa jor pakad rahi hai, pind vich nojawaan AAP de picche ja rahe ne (A new wave is growing, with youth in the village going with AAP)," says Milkha Singh, 71, a contract farmer in Baba Bakala constituency.
"The youth don't listen to us. My family has around 20 voters and I believe half of them would vote for a change."
He rues that though demonetisation had put him in financial trouble, he did not have any other option except to vote for the ruling Akalis (in coalition with the Bharatiya Janata Party).
"Chief Minister Parkash Singh Badal had waived electricity charges for running tubewells but Amarinder Singh (the Congress chief) brought it back," he says.
Milkha Singh had to sell his crop at throwaway prices because of the cash crunch in the market during the demonetisation between November 8 and December 30.
Some 25 km away from Baba Bakala, Manpreet Kaur pledges support for Badal in the Khadur Sahab Assembly segment of Tarn Taran district. Kaur said she would benefited from the state government's atta-dal scheme, under which it provides wheat and pulses at highly subsidised rates to the poor.
In the district, though, close to the Pakistan border, many families have decided to punish the Akalis for failing to prevent rise of drug abuse and controlling of hooligans.
"Most families have a drug addict in the villages here. The problem is more among the unemployed youth. We hold the present government responsible. They have ruined the entire young generation. The Akali sarpanch (village headman) is pressing us to vote for the SAD but we will change the government," says a mother of a drug addict in Kaka Kandiala village.
Devender Singh Mardana, a SAD activist in Amritsar, admitted the average use of drugs has risen in Punjab. However, he said, political parties were blowing it out of proportion to make it an election issue.