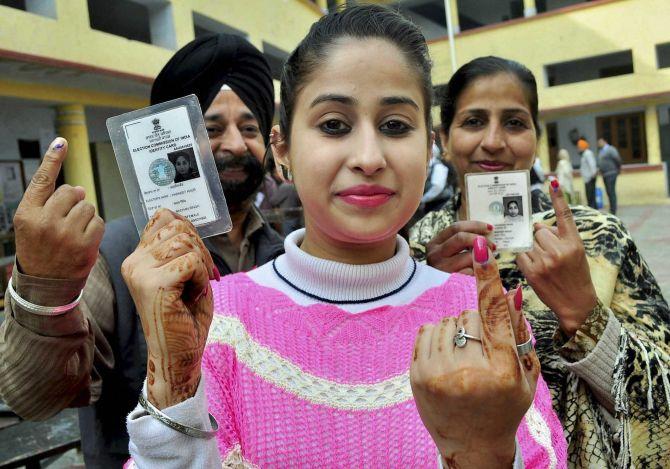 PATIALA: A girl, along with her family members, showing indelible ink mark on her finger after casting vote. All Photographs: PTI Photo
Punjab on Saturday recorded around 75 per cent polling during which technical glitches and stray incidents of violence were reported in the state which is seeing a high-stake contest among the Congress, the new entrant Aam Aadmi Party and the ruling Shiromani Akali Dal-Bharatiya Janata Party combine.
"Around 75 per cent polling has taken place," Chief Election Officer V K Singh said.
Over 79 per cent electors had cast their votes in the 2012 assembly polls.
"Barring stray incidents of violence the polling in single-phase remained peaceful," Additional Director General of Police (Elections) V K Bhawra said.
Two persons were injured in a clash which took place between AAP and Congress workers at Sultanpur village in Sangrur district, police said.
In Tarn Taran district, a Congress worker identified as Jagjit Singh was injured when an Akali supporter allegedly opened fire at him outside a polling booth in Lalu Ghuman village, they said.
A large number of voter-verified paper audit trail machines, installed for the first time, developed snags during the polling process in the state.
A technical snag was reported in VVPAT machines in Majitha and Sangrur, an election office spokesman said, adding that the matter had been referred to the Election Commission of India.
Due to a snag in the machines, polling had to be called off a number of times, Punjab Chief Electoral Officer V K Singh said, adding that these machines were replaced by others.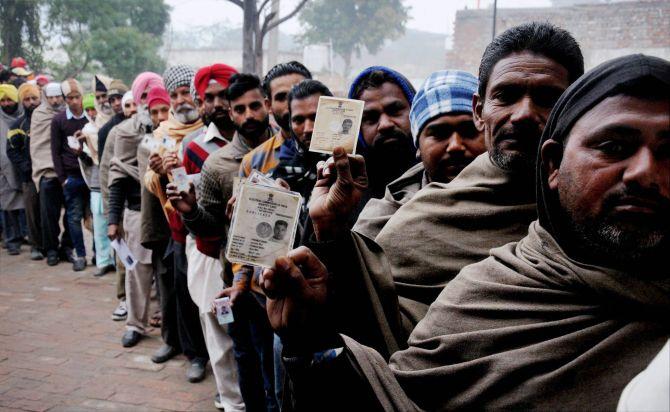 AMRITSAR: Voters in queue show their ID cards.
Shortly before the polling was to end, Chief Minister Parkash Singh Badal 'thanked Punjabis for peaceful polling and reposing faith in the SAD-BJP alliance'.
A statement issued by Badal's spokesman quoted him as saying, "Moved by people's love despite negative agenda."
However, this time around 70 per cent out of the total 1.98 crore electors exercised their franchise to decide the fate of 1,145 candidates including Chief Minister Parkash Singh Badal, his son and Deputy, Sukhbir Singh Badal, Cabinet Minister Bikram Singh Majithia and Punjab Congress President and the party's chief ministerial candidate, Capt Amarinder Singh.
The total number of electors in the state is 1,98,79,069, including 93,75,546 females. There are 415 transgender voters.
The total number of candidates in the fray includes 81 women and a transgender.
Six persons were injured during a clash between Congress and SAD supporters at Ropowali village in Fatehgarh Churian constituency, police said.
In Majitha, a heated exchange of words took place between Akali candidate Bikram Singh Majithia and Congress candidate Sukhjinder Raj Singh Lalli after the former raised objection over allegedly bringing vehicles inside the polling station.
"Don't break the rules," Majithia, who is seeking re-election for third time from Majitha constituency, told his opponent, asking the driver to take the vehicles out of the polling booth.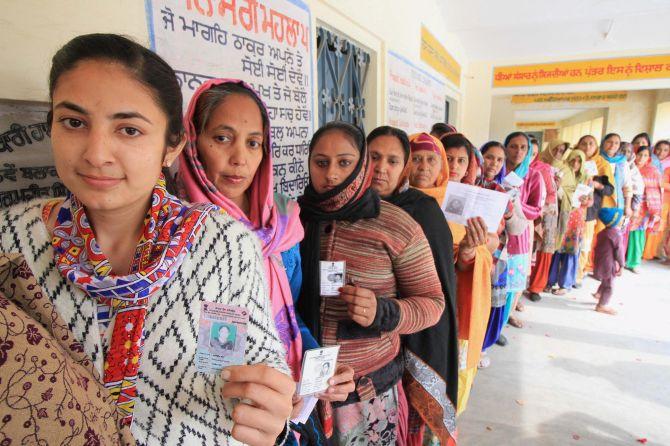 MUKTSAR: Women voters wait in a long queue at a polling station at Badal village in Muktsar.

A verbal duel took place between some media personnel and security staff deployed at one of the polling booths in Majitha constituency after the scribes alleged that they were not allowed to enter the polling booth by the security personnel despite authorisation, police said.
A minor clash took place between Congress and BJP workers at Preet Nagar of Jalandhar Central constituency.
Another minor clash between SAD and AAP workers took place at Kotkapura in Faridkot district while there was report of a clash at Kalanaur in Batala between AAP and Congress workers, in which police had to use mild force to diffuse the situation.
Minor clashes also took place between Congress and BJP workers at Samrala village in Bhoa assembly segment in Pathankot district.
In Phillaur's Atta village, a verbal duel took place between Congress and Akali Dal workers.
In Nangal village in Phillaur, a verbal duel took place between AAP and BSP workers.
Meanwhile, Moga district police booked Independent candidate Manjit Singh Mann, contesting from Moga constituency, under the provisions of the Representation of the People Act and also under relevant section of the Indian Penal Code, for campaigning after the deadline for the same had ended, Moga's Returning Officer said.
A 35-year-old man identified as Prakash, a resident of Bhim Nagar in Jalandhar, died due to suspected cardiac arrest, when he came out of the polling booth at a school in Bashirpura, Jalandhar, police said.
Apart from the SAD-BJP alliance, Congress and the AAP, other outfits in the fray include the Bahujan Samaj Party, former AAP leader Sucha Singh Chhotepur-led Apna Punjab Party, the Left -- comprising the Communist Party of India and the Communist Party of India-Marxist, and SAD-Amritsar.
Voting for Amritsar Lok Sabha seat by-poll was also being held amid tight security arrangements.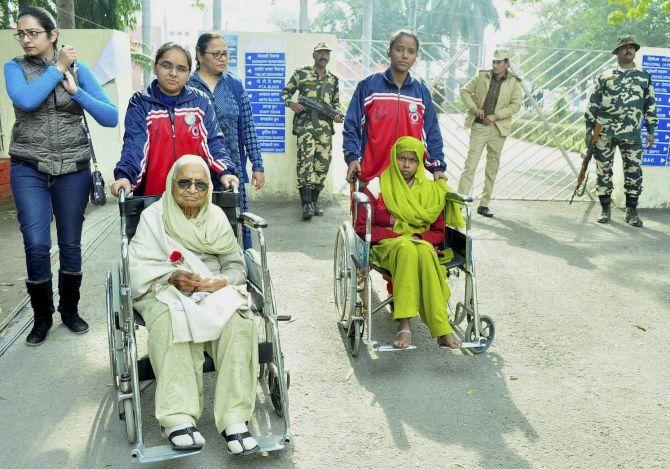 PATIALA: An elderly and a disabled woman, both on wheelchairs, come out after casting their votes.

For the first time webcasting from over 4,000 polling booths was done, which was monitored from Chandigarh control room.
The election commission had installed VVPAT machines in 33 of the 117 constituencies for the assembly polls and two assembly segments as part of the Amritsar by-polls.
Among those who cast their vote early included Punjab Chief Minister Parkash Singh Badal, Deputy Chief Minister Sukhbir Singh Badal, CM's daughter-in-law and Union Minister Harsimrat Kaur Badal and Congress veteran Rajinder Kaur Bhattal.
Capt Amarinder Singh and his wife Preneet Kaur cast their votes in the afternoon.
'Seeking my mother's blessings before casting my vote. Let this be a new dawn for Punjab!' Amarinder tweeted shortly before exercising his franchise.
Former Army chief General J J Singh (retd) of SAD, Navjot Singh Sidhu and Pargat Singh, contesting as Congress candidates, Sucha Singh Chhotepur of Apna Punjab Party, and Bhagwant Mann, Gurpreet Singh Ghuggi and Sukhpal Singh Khaira of AAP, also cast their votes early on.
Besides development issues, other issues which remained at the centre stage in the run up to the polls were unemployment, drugs and mafia and incidents of sacrilege.
The polling started around 45 minutes late at two polling booths in Jalandhar, Mohali and Amritsar due to technical glitches in the electronic voting machines.
Polling was brisk in Malwa region of the state comprising 69 assembly seats as an estimated 75 per cent electors exercised their franchise.
Punjab Cabinet Minister Bikram Singh Majithia was unable to cast his vote in the morning due to technical snag in EVM at polling station number 35, Ward number 5 in Majitha constituency in Amritsar district. He cast his vote later.
Over 200 companies of paramilitary forces were deputed for the fair conduct of polls.
Braving overcast conditions and winter chill, thousands of voters turned out since early morning to cast their votes.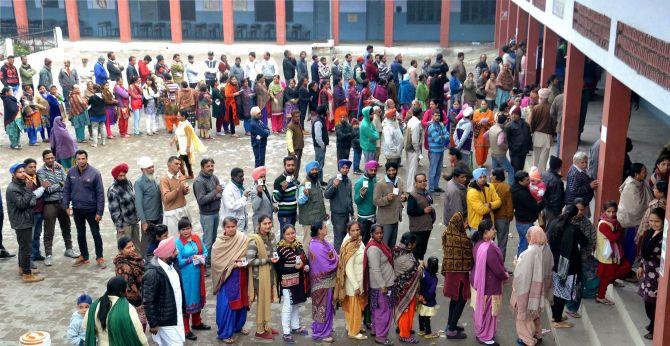 JALANDHAR: People stand in queues to cast their votes at a polling station.

Long queues were seen at most polling stations as voting began in all the assembly constituencies at 8 am.
The SAD has fielded candidates in 94 seats, while its ally BJP has nominated candidates in the remaining 23 seats. The Congress is contesting alone on all seats.
The AAP has fielded candidates in 112 seats, while its ally Lok Insaf Party, led by Ludhiana-based Bains brothers, has fielded nominees in five seats.
Key contestants who are in the fray include Punjab Congress chief Amarinder Singh (Patiala and Lambi seats), Chief Minister Parkash Singh Badal (Lambi) and his son Deputy Chief Minister Sukhbir Singh Badal (Jalalabad).
For the Amritsar Lok Sabha by-poll, an estimated 57 per cent polling took place, an election office spokesman said.
Amritsar Lok Sabha seat fell vacant following the resignation of Amarinder Singh to protest against the apex court verdict on Punjab's river waters. The voter strength in Amritsar Lok Sabha is over 14 lakh.
Prominent among the candidates in fray for the Lok Sabha seat are BJP leader Rajinder Mohan Singh Chhina, who is up against Congress' Gurjit Singh Aujla and Aam Aadmi Party's Upkar Singh Sandhu.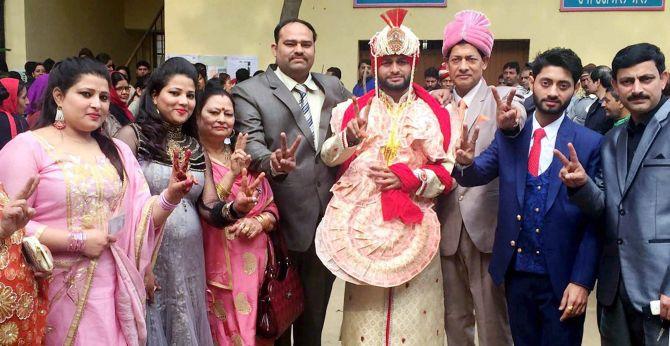 JALANDHAR: A groom, along with his family, outside a polling station.

The counting of votes for the state polls and Amritsar Lok Sabha by-poll will take place on March 11.
Speaking to reporters after casting his vote at Lambi, the 89-year-old chief minister said, "I have 70 years of experience and have fought for Punjab and India, this is a small battle."
Sukhbir Badal claimed, "We will have a bigger win than last time."
"The AAP will finish at third number spot," he said in reply to a question.
"People will vote for development, peace and communal harmony. AAP is a pack of criminals," he said.
Amarinder Singh said that his party was leading in the entire state and was set to form the government.
He claimed that he would also win from Lambi, defeating the chief minister.
Cricketer Harbhajan Singh and his mother Avtar Kaur also exercised their franchise.
"This time, three parties in the fray are fighting it out, I wish that whosoever wins should keep Punjab's interests above all," he told reporters.
Cricketer-turned-politician Navjot Singh Sidhu, who along with his wife Navjot Kaur cast his vote in Amritsar, said, "People of Punjab will give a gift to Congress vice president Rahul Gandhi by ensuring party's victory here and its revival in the country."
"Truth will prevail in Punjab... from this place Congress flag will start floating," he said.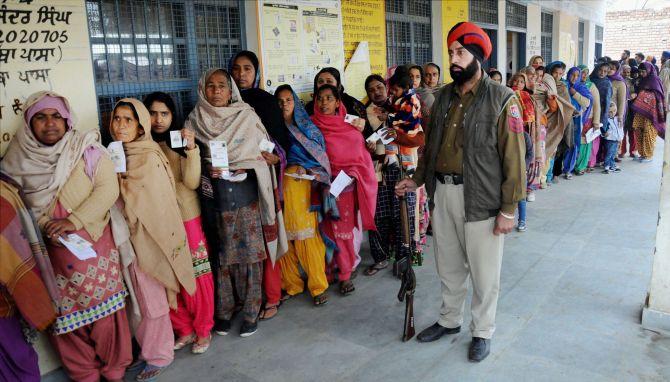 AMRITSAR: Women show their voter ID cards as they stand in a queue in a village about 25 km from Amritsar.

In Fazilka, Punjab police personnel gave roses to the first 10 voters.
"106-year-old Mali Devi of ward number 12 at Guru Arjan Dev Nagar cast her vote at booth number 132 in Ludhiana," Ludhiana Deputy Commissioner Ravi Bhagat said.
She was provided pick and drop facility by Ludhiana administration, he said.
Two ailing women voters Raj Rani, 78, and Bimla Devi, 80, came in an ambulance to exercise their franchise in Phagwara.
While one was taken on a stretcher, the other was taken on wheel chair to Booth No 158 in Government Elementary School near old Dana mandi in Phagwara.
Talking to reporters, the women claimed they had arranged ambulance themselves. They urged the Election Commission to make separate and priority arrangements for the ailing voters.