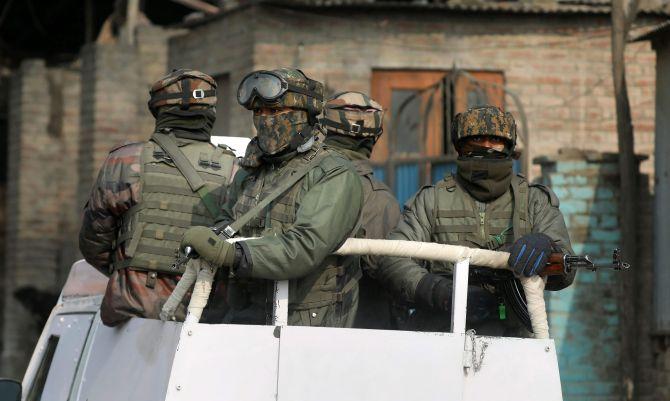 The counter-operation launched by security forces against the terrorists who attacked a Central Reserve Police Force camp in Pulwama district of Jammu and Kashmir ended on Monday following the recovery of the body of another terrorist, the police said.
Finally, the operation has concluded with the recovery of the body of the third terrorist, Director General of Police S P Vaid said.
The bodies of two terrorists had been recovered on Sunday.
The two ultras whose bodies were recovered on Sunday were Manzoor Ahmad Baba from Drubgam (Pulwama) and Fardeen Ahmad Khanday from Nazeempora (Tral). Khanday was the son a serving policeman.
CRPF, meanwhile, said the search operation is still underway in the area to be doubly sure before calling it off.
"The search operation is still going on. We want to be doubly sure before we call off the operation," CRPF Special DG (Jammu and Kashmir zone) S N Srivastava said during a media briefing.
He said one more terrorist killed on Monday was 'a foreign militant'.
In a pre-dawn strike, five CRPF men were killed while three others injured when heavily armed terrorists stormed the camp of the paramilitary force at Lethpora in Pulwama district on Sunday.
The attack was claimed by Pakistan-based Jaish-e-Mohammed.
Meanwhile, the Himachal Pradesh government on Monday gave an ex gratia relief of Rs 20 lakh to the family of Inspector Kuldeep Roy of the 185 Battalion of the CRPF, who was killed in the attack.
Roy hailed from Tikkar Khatriyan village of Hamirpur district.
Governor Acharya Devvrat and Chief Minister Jai Ram Thakur have expressed grief over the death of Roy and expressed sympathies with the bereaved family and prayed for peace to the departed soul.
Thakur said the brave soldiers of the state lead from the front to safeguard the country.
The supreme sacrifice by the martyrs would always be remembered by the country, he said.
Army pays tribute to jawan killed in Pak shelling in Rajouri
The Army on Monday bid farewell to Sepoy Jagsir Singh who was killed in Sunday's ceasefire violation in Rajouri district of Jammu and Kashmir.
A wreath laying ceremony was organised in honour of the soldier, who laid down his life guarding the nation's frontiers while serving at the Line of Control in Nowshera sector, a defence spokesman said.
A military send off was organised, wherein, General Officer Commanding, among other military dignitaries, laid wreaths on behalf of Lt Gen D Anbu, Army Commander, Northern Command and Lt Gen Saranjeet Singh, GOC, White Knight Corps.
Singh, 32, hailed from Lohgarh Thakhran Wala village in Firozepur district of Punjab. He is survived by his wife Mohinder Pall Kaur, two daughters and one son.
"He was a dedicated, brave and sincere soldier and a thorough professional. The nation will remain indebted to him for the supreme sacrifice and devotion to duty. He will continue to motivate the future generations," the spokesman said.
IMAGE: Army personnel move towards the CRPF training camp during the second day of the encounter with the fidayeen attackers, at Lethpora in Pulwama district of south Kashmir on Monday. Photograph: PTI Photo