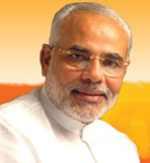 Gujarat Chief Minister Narendra Modi on Thursday made a false claim that the Press Trust of India had reported in July that Congress President Sonia Gandhi's foreign trips had cost Rs 1,880 crore during a three-year period.
Modi, who has stirred a controversy over government expenses on Gandhi's foreign tours, told
CNN-IBN
, "In the month of July,
Outlook
magazine,
Times of India
,
Indian Express
and some other newspapers reported from the news of PTI that Madam Soniaji's three years of foreign tour expenses are Rs 1,880 crore."
He went on to say, "So, I raised the question that it has been three months since July and why isn't the Government of India giving a clarification." The publication of such "wrong reports" should be clarified, he said.
PTI would like to make it clear that it had not issued any such story.
The Gujarat chief minister had on October 1 first attributed the figure of Rs.1,880 crore to a government response to an Right To Information applicant of Hisar in Haryana which, he said, had been published in a newspaper on July 12.
This was controverted by the applicant Ramesh Verma who went on national television to say that he had got no such information in response to his RTI application and in fact, the government had not given him any response.
However, the information collected by him from the external affairs ministry and Indian missions abroad had given him a figure of Rs 80 lakh to Rs 85 lakh, he said.
The Prime Minister's Office had said last week that no government money has been spent on the Congress president's overseas visits or on her medical treatment and described Modi's figure of Rs 1,880 crore as "untrue and misleading".
 The Central Information Commissioner had also denied the report on the Sonia's expenses.