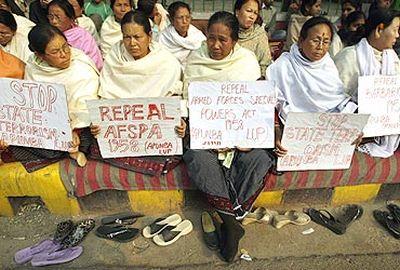 The Centre's decision to extend the enforcement of the Armed Forces (Special Powers) Act, 1958, to 12 districts of Arunachal Pradesh bordering Assam and Nagaland, has sparked sharp reactions.
A consultative meeting organised by the All Arunachal Pradesh Students' Union on AFSPA held in Itanagar has unanimously decided to constitute a Joint Coordination Committee to carry forward the movement against AFSPA.

The JCC spearheaded by AAPSU will comprise of leaders from various organisations, NGOs and prominent persons in the state. The committee will conduct state-wide awareness campaigns on AFSPA, followed by mass democratic movements, informed AAPSU leader Kamta Lapung.

The AAPSU will also submit a memorandum to the Arunachal Pradesh government and Union Home Minister Rajnath Singh. Although the meeting welcomed the assurance given by Union Minister of State Home, Khiren Rijiju to partially roll back AFSPA from Arunachal Pradesh, JCC in coordination with the North East Students Organisation will continue to campaign for total repeal of the Act.

AFSPA has been in force in Tirap, Changlang and Longding districts of Arunachal
Pradesh up to 20 km inside from the inter-state boundary with Assam. But the latest decision of the Centre to extend AFSPA enforcement to 12 more districts of the state has angered the people of the state.

The Congress government in Arunachal Pradesh has stated that the Centre did not consult it before deciding on extending AFSPA to other districts.

A team of the state BJP led by president Tai Tagak met several senior party leaders, including MoS for Home Affairs Kiren Rijiju in New Delhi to apprise them of the people's stiff opposition to extension of the Act.
Image used for representational purposes only