The CRPF which had sanitised the area three hours before the attack had failed to locate any landmines, reports Vicky Nanjappa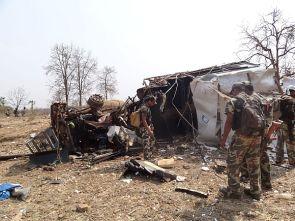 Even as the Chhattisgarh police try to make sense out of Saturday's deadly naxal attack, glaring loopholes in the manner the situation was handled have surfaced.
The Central Reserve Police Force which has exclusive charge over the naxal menace had sanitised the area three hours prior to the attack but was not around the area at the time of the attack.
There was ample intelligence to suggest that there would be a build up of naxalites in the area. The investigation suggests that there were more than 200 naxalites who had positioned themselves on a hillock.


The area which was sanitised three hours before the attack had failed to locate any landmines. Police officials believe that the landmines made up of heavy improvised explosive devices was placed about half an hour before the attack, which could be a reason why it was not was found earlier.
The CRPF was missing when around 200 naxals opened fire at the convoy. There was retaliatory fire by the security personnel, but they ran out of ammunition. Even when the naxals approached the convoy they looked only for important leaders.
The police say the naxals seized the mobiles of those under attack cutting off all means of communication. This helped the naxals in prolonging the attack. No one was able to contact the state administration which could have pressed the CRPF into action.