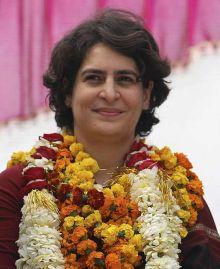 Priyanka Gandhi will decide her future role herself, the Congress said on Wednesday downplaying suggestions that she is set to play a larger role in the party ahead of Lok Sabha elections.
"I think this issue has been answered many times. A meeting of senior leaders was going on at Rahul Gandhi's residence. Towards the end of the meeting, a sister who often comes to meet her brother at his residence also meets party leaders out of courtesy. Nothing more should be read into it...," party spokesperson Randip Surjewala said.
"If she has come to her brother's residence and a meeting is going on there and she meets those leaders out of courtesy, this cannot be a matter of dispute," he said in reply to questions at the All India Congress Committee about Priyanka's meeting top party leaders on Tuesday which sent a buzz in the political circles.
"Not much politics should be read into," he said. He caveated his response by saying that Priyanka is an "important member" of the Gandhi-Nehru family.
Asked whether Priyanka will be attending the January 17 meeting of the AICC being held in New Delhi, Surjwala remarked, "This is a question currently hypothetical. Wait for the meeting to happen."
His remarks came on a day when Priyanka visited her mother Sonia Gandhi at the official residence of the Congress president 10 Janpath. They later went to Rahul's residence separately. Surjewala, however, feigned ignorance when asked about these developments.
A party leader, who declined to be identified, reminded that it needs to be seen that Priyanka had always restricted her arena to the two seats of Rae Bareli and Amethi and till date there has been no further participation.
At the same time, he made it clear that Priyanka has always chosen her own role and "we should leave it at that".
"We should let Priyanka Gandhi decide it. So far, she has been taking interest only in the two constituencies. She has always been very categorical that she will restrict her role to two constituencies.
"She has on date decided that she wants to restrict herself in guiding election campaign in Amethi and Rae Bareli like the previous two-three Parliamentary elections," the leader said, adding she had only "dropped by" at the meeting of senior leaders to chalk out the tour programmes of Congress president and vice president.
At the AICC briefing, Surjewala found nothing wrong in party general secretary Janardan Dwivedi's remarks that Priyanka has been an active member of the Congress for many years.
"Priyanka Gandhi Vadra has been connected with party workers in Rae Bareli and Amethi, not only now but for years. She has been playing an active role in both the Parliamentary constituencies," he said.
Another leader said that Priyanka had just dropped by at the meeting and "not much more than what transpired should be read into it".
"Let Priyanka Gandhi be permitted to decide her role. She is also a private person... Her privacy should be respected," the leader said.
The party functionary also said that the meeting at which Priyanka dropped by had nothing to do with Rae Bareli and Amethi, when asked whether such a meeting between her and top party leaders was required as the political situation in both Rae Bareli and Amethi have become tougher now.
"There are many times, such meetings are held at Rahul Gandhi's residence as there is a functioning office of the Congress vice president there," the leader said suggesting that some members of Rahul's office were also present maintaining that "secretarial assistance" is needed.
Sonia Gandhi's political secretary Ahmed Patel, Union minister Jairam Ramesh, AICC general secretaries Madhusudan Mistri, Janardan Dwivedi, Ajay Maken and party ideologue Mohan Gopal were present in the yesterday's meeting where Priyanka met the leaders.
Her meeting led to speculation in political circles whether Priyanka, who will turn 42 next week, will assume an active political role to perk up the Congress performance in the Lok Sabha, particularly in the context of the recent drubbing it received in the assembly polls.
There has been speculation in recent months on whether Priyanka, who has so far confined her politics to campaign for her mother in Rae Bareli, would take a plunge into politics full time.