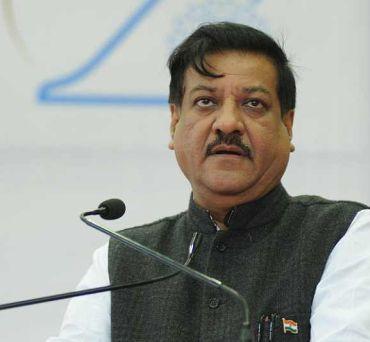 Chavan continues to survive despite strong criticism from coalition partner Nationalist Congress Party, notes Sanjay Jog.
It hasn't been a smooth ride for Prithviraj Chavan. His two years as Maharashtra chief minister has been riddled with scams and accusations between the ruling coalition -- Congress and the NCP. Despite a clean image, the opposition and NCP have accused him of paralysing the decision-making process.
But he has survived two years. In these years, the rift between Congress and NCP has widened. Though both parties talk about fighting the 2014 assembly elections together, they are also busy preparing to go solo.
The state has been hit by a number of scams -- irrigation, toll collection, rebuilding of Maharashtra Sadan, implementation of tribal development schemes and so on -- from the ministries held by the NCP. What has queered the pitch for Chavan is that despite the Congress ministries not being in the eye of storm, he has had to defend the government.
NCP has been unusually harsh. Chavan's announcement in May to bring out a white paper on the irrigation sector led to an angry reaction. He cited the observations of the Economic Survey that despite spending Rs 70,000 crore during a decade, a paltry 0.1 per cent extra potential was created.
The NCP contested the chief minister with an argument that the actual rise was at least 12 per cent. The irrigation scam led to Sharad Pawar's nephew and deputy chief minister Ajit Pawar's resignation. The white paper, meanwhile, is yet to see the light of day.
Another thorny point between the partners has been dissolution of the NCP-dominated board of directors of the Maharashtra State Cooperative Bank in May 2011 (anchor bank for the agriculture and co-operative sector). The CM's alleged proximity to the Shiv Sena continues to annoy them.
On the economic front, the state's pre-eminence in attracting investments has been challenged by Odisha, Gujarat, Madhya Pradesh and a couple of other competitive states. The government is still in the midst of finalising its much debated New Industrial Policy. What was Gujarat's gain was Maharashtra's loss, as it lost major expansion investments from Maruti and Ford.
Industries have been upset with high power rates, saying they can't be further burdened to cross-subsidise agricultural consumers. The recent rate revision approved by the state regulator for high-tension consumers has led to rise in prices. Now it stands at Rs 8.50 per unit compared to Rs 5.75 to 6 in Karnataka, Rs 5 to 5.30 in Gujarat, Rs 4.50 to 4.80 in Chhattisgarh.
There are 17,587 high-tension consumers, 335,157 low-tension consumers and both together are 1.6 per cent of MahaVitaran's total consumers which are almost 12.3 million. These consumers contribute Rs 29,645 crore of revenue which is 61 per cent of MahaVitaran's total revenue. Chavan has promised to provide relief but there been no action so far which has made the industry lobby unhappy.
His steps to reign in the realty sector has also met with much criticism.
But Chavan is unmoved, despite criticism for being slow in decision making and an alleged policy paralysis, as he enjoys tacit support of the Congress high command. He is not prepared to compromise on pursuing his objective of administrative reforms and transparency, and good governance.
Although his heart still lies in Delhi, he is determined to lead Congress party in the ensuing assembly elections to checkmate the NCP and his critics.