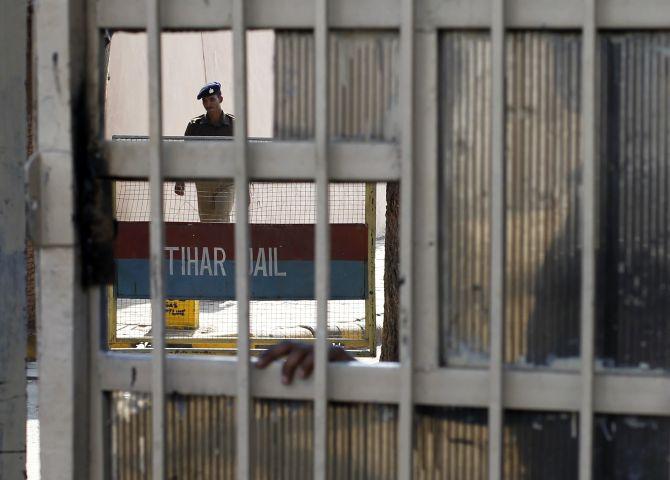 A policeman walks inside the Tihar Jail in New Delhi. Photograph: Mansi Thapliyal/Reuters
Two small-time burglars pulled off a near-impossible jailbreak from the high-security Tihar prisons in New Delhi, during which they scaled three 13-feet high walls and drilled a hole in the fourth one which was two-feet wide.
The incident put a question mark over security measures at the prison which houses more than the double prisoners than its sanctioned capacity prompting the central home ministry to seek a report from Tihar authorities while Lt Governor Najeeb Jung ordered a magisterial inquiry into the case.
The two inmates who managed the daring escape were identified as Faizan and Javed both of whom were lodged in a special 'Roza' ward in Jail No. 7. Jail authorities had created this ward for inmates observing fast during the Islamic Holy month of Ramzan.
Faizan and Javed, both of whom were under trials were accused in burglary cases and had become friends during their stay at Tihar. However, soon after coming out of the prison complex, Faizan developed cold feet and did not go with Javed who managed to flee.
"It seems that Javed who is a seasoned criminal used Faizan to escape from the prison. He needed somebody to scale high walls and had assured Faizan of taking care of his expenses and other logistics once they escape.
However, as soon as they were out, Javed ditched Faizan. He then developed cold feet and was caught from the drain," said an official who interrogated Faizan.
According to sources in Tihar, it all happened between Saturday morning's roll call and the one that took place in the night.
There were a total of 21 inmates who were kept in the 'Roza' ward to facilitate their fasting. On Saturday morning, all of them were there during the morning roll call. But the two were not found during the roll call which took place in the night.
Prison authorities pressed the panic button and a hunt was launched in around the prison during which Faizan was caught from a drain which flows near the peripheral walls.
"To escape the prison, the duo first scaled two walls which are around 13 feet high each. The third wall was 16 feet high, when they cannot scale it, they drilled a hole in it and
then again scaled the fourth wall which was 13 feet high to land in the drain where Faizan developed cold feet while Javed fled," said a senior prison official on condition of anonymity.
The third wall was two feet wide, but both of them used their burglary skills to drill a hole in the already brittle wall. They used stones to dig it out and then sneaked past it, he added.
Interestingly, prison authorities informed police only after more than 24 hours of the incident. A case under relevant sections of law was registered at West Delhi's Hari Nagar police station only around 11 in the night.
Although no senior official from Tihar came on record to explain the delay, sources said that prison authorities thought that without money and food, Javed too won't be able to go far and they can nab him.
But when all efforts failed, they informed the police.
"In addition to launching a manhunt to nab the absconding inmate we are also investigating whether any insider was involved in this stunning jailbreak. It looks unlikely that they drilled a two-feet wide wall with stones. We are investigating the case from all possible angles and several teams have been formed to nab the absconder," said a police official.
Javed had three cases of burglary and attempt to burglary pending against him. He was brought to Tihar on June 2 while Faizan came to the jail on June 24. Both of them met in the prison and became friends. While Javed is a resident of Devli, Faizan's family lived in Madanpur Khadar.
Tihar DG ALok Verma has ordered an internal probe into the matter and Superintendent of Jail No. 2 M K Dwivedi has been asked to submit a report within two days.
Extreme crowding and rising number of cases of violence have plagued Tihar which was once known for its reforms. Today, a number of gang operate from Tihar which is considered to be Asia's largest prison. A number of inmates have recently lost their lives in bloody battles of supremacy in the jail premises.
Tihar Jail currently houses 14,366 inmates which is more than double of its sanctioned capacity of 6,250. Jail No. 7 alone has 837 inmates while its actual capacity is just 350.