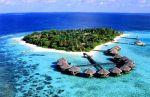 President Pranab Mukherjee will be the chief guest at the national day celebrations of Mauritius on March 12 as part of his second state visit abroad.
India and Mauritius will also sign several bilateral pacts in social sectors, including health and tourism, during Mukherjee's visit to the Indian Ocean island nation.
Secretary (West) in the Ministry of External Affairs Sudhir Vyas said relations between India and Mauritius were "unique, special and extra ordinary" and the two countries enjoy "close historical and ancestral relations".
Briefing reporters about Mukherjee's second visit abroad as President, Vyas said India gives highest importance to its relations with Mauritius as 70 per cent of its people are
Indian origin and 38 per cent its Foreign Direct Investment comes from that country, in addition to its geo strategic location.
During his visit, Mukherjee will have meetings with Mauritius President Rajkeswur Purryag, Prime Minister Navin C Ramgoolam, Speaker of the National Assembly Abdool Razack Peeroo, Chief Justice Y K J Yeung Sik Yuen and Leader of the Opposition Paul Berenger.
Asked whether India would sign any tax treaty with Mauritius during the Presidential visit, Vyas said a joint working group of both the countries has been examining the Double Tax Avoidance Agreements and held two meetings (December 2011 and August 2012) and both sides were committed to considering amendments in its provisions to avoid misuse of the treaty.
On China's growing influence on the Indian Ocean region, Vyas said New Delhi does not consider Beijing as a rival in the region and China has been cooperating with other nations in checking piracy and in other international affairs.
President's Press Secretary Venu Rajamony said the President was greatly looking forward for the visit and greatly honoured to be chief guest at the national day celebration of Mauritius.