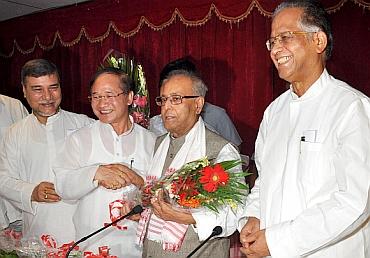 The presidential candidate of the Congress-led United Progressive Alliance, Pranab Mukherjee on Friday stated that he banked on judgement of the members of the Electoral College for the outcome of the forthcoming Presidential election.
During an interaction with the media here on Friday evening following his interaction with Congress chief ministers, legislators, members of Parliament and leaders of certain regional political groups, Mukherjee said, "Outcome of the President's election was dependent on the judgement of members of the electoral college and I have full confidence in the judgement of the members of the electoral college."
He said so when drawn to his rival P A Sangma's campaign strategy based on the latter's tribal identity. He declined to make any comment on Sangma's stand that time has come for the country to give chance to a tribal to adorn the office of President of India.
Mukherjee hoped that UPA constituent Trinamool Congress' legislators and members of Parliament would vote for him.
"The Trinamool Congress is yet to take a decision about whom to support in the Presidential election. Their leader will decide on it before the actual date of election. I hope they will support me," Mukherjee said during an interaction with the media in Guwahati on Friday evening.
Regarding the debate over the need for a presidential debate before the Presidential election, Mukherjee said, "The scope of such a debate was not there in India political system unlike the United states and France. The Constitution may vest power in the President here but the power is executed by a council of ministers headed by the prime minister and they determine the policies. So, an appropriate debate can take place during general elections, but it is difficult to hold such debate in a multi-party system,"
Mukherjee was in Guwahati to interact with Congress chief ministers and legislative party leaders of the north-east, party legislators and MPs. He also interacted with small regional political parties who are yet to decide on whom to support in the Presidential election.
Mukherjee met leaders of Al Indian United Democratic Front led by perfume mogul Badaruddin Ajmol and Congress' only ally in Assam, Bodoland People's Front. The AIUDF had 18 MLAs in Assam and one MP while the BPF has 12 MLAs and one MP.
Meghalaya Chief Minister Dr Mukul Sangma and Arunachal Chief Minister Nabam Tuki were in Guwahati to meet Mukherjee. He is slated to travel to Left-Front ruled Tripura to meet Chief Minister Manik Sarkar and other Left Front leaders.
Image: Pranab Mukherjee with Assam Chief Minister Tarun Gogoi