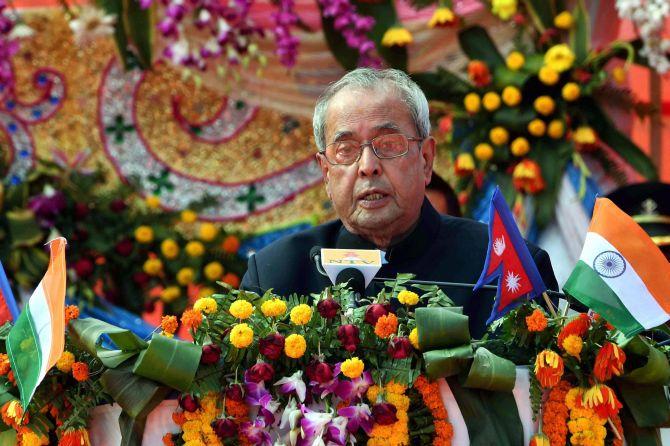 IMAGE: President Pranab Mukherjee attends the Civic Reception at Tirhutiya Gachi during his visit to Janakpur, Nepal on Friday. Photograph: PTI Photo

President Pranab Mukherjee on Friday likened Indo-Nepal ties to that of a 'family' in which differences sometimes crop up but said the effort is to iron them out through talks, an apparent reference to the political crisis over the new Constitution that had strained bilateral ties.
Mukherjee, the first Indian president to visit Nepal in 18 years, described his three-day state visit which concluded on Friday as 'very successful'. He held discussions with several Nepalese leaders including President Bidya Devi Bhandari, Prime Minister Prachanda, Vice President Nand Bahadur Pun, Opposition leaders and representatives of Madhesi community.
During his visit, Mukherjee visited the hotbed of Madhesi protests Janakpur and met ex-servicemen of Gurkha regiments in Pokhra. The 80-year-old Mukherjee had about 27 engagements.
"I would like to say I had a very successful visit to Nepal. I came here the day before yesterday (Wednesday) and since then I am overwhelmed with the hospitality of the people and government of republic of Nepal. Of course, Nepal is not an unknown land to me. I have the privilege of coming to Nepal several times," he told reporters in Pokhra.
Asked about occasional hiccups in Indo-Nepal ties and will his visit be able to revive the warmth between the two nations, the president cited the example of a family in which differences sometimes crop up.
"Nepal and India always have good relations and as you know that in our individual lives, in our daily lives, day to day lives, there may be some different approaches or different angularity. But it is always our effort to iron them out and to resolve it through discussions, explanations and understanding. As we did in the case of family, in the larger context Indo-Nepal relationship is like that," he said.
Asked about his deliberations with Madhesi leaders on Thursday night, Mukherjee said he told them to work together.
"After all, Constitution is a basic document and it should be drafted on the basis of broad consensus so that it is a lasting document and it can address the problems of all sections of the people and there should be a broad consensus in the drafting of the Constitution," he said.
"I do hope that remaining (differences) should also be addressed to the satisfaction of all the sections concerned," he said.
The Madhesi community in Nepal has strong family ties with Indians and constitutes a large part of Nepal's population.
"The representation in parliament should be proportional to the population. In areas where there is sparse population and the areas which are densely populated have same number of representatives in the parliament," Mahendra Prasad Yadav, a prominent Madhesi leader had said explaining the issue.
These issues were not addressed in the Constitution adopted by Nepal on September 20 last year, which had triggered massive protests in the southern Terai region and led to a crippling blockade of border trading-points with India. It had cause a huge shortage of essential commodities in landlocked Nepal.
On December 23, 2015, then Nepal government had tabled the Constitution amendment bill to address Madhesi demands of proportional inclusiveness and delineation of electoral constituencies based on their population.
On the possible misuse of 'open border' between the two countries, which was underlined by him during one of his speeches in Kathmandu, Mukherjee said huge benefits have been drawn through the open border and that they have virtually converted into a boundary-less region.
He, however, said the problem with them is they may be exploited by people who are not friendly to the two countries.
"Both the governments are aware of it and they will ensure that the border management is being made effectively and properly," he said.
Later in a statement, Mukherjee said India is 'determined to support Nepal in its pursuit of peace, stability and development' and wished the Nepalese people in their efforts to achieve these goals 'within a federal democratic polity'.
"As two sovereign nations, we wish to take forward our relationship on the basis of trust, goodwill and mutual benefit," he said.
"Nepal has been a 'mission of friendship' and reflects the priority that India attaches to further strengthening our unique relationship with Nepal. Our destinies are inter-linked and there is recognition on both sides of the need to advance common prosperity," he said.
"Both sides agree that focus should now shift to implementation of ongoing bilateral development and connectivity projects as well as projects for post-earthquake reconstruction of Nepal," he said.
Mukherjee invited President Bhandari to visit India. She accepted the invitation with happiness, the statement said.
"In all my meetings, I found tremendous goodwill and strong desire to advance our excellent bilateral ties for the benefit of our two peoples," he said.
Mukherjee visited the famous Pashupatinath Temple. There, he announced that India will undertake two small development projects to renovate the ghats near the temple on River Bagmati, which runs through Kathmandu Valley and enters India via Bihar. It is considered holy by both Hindus and Buddhists.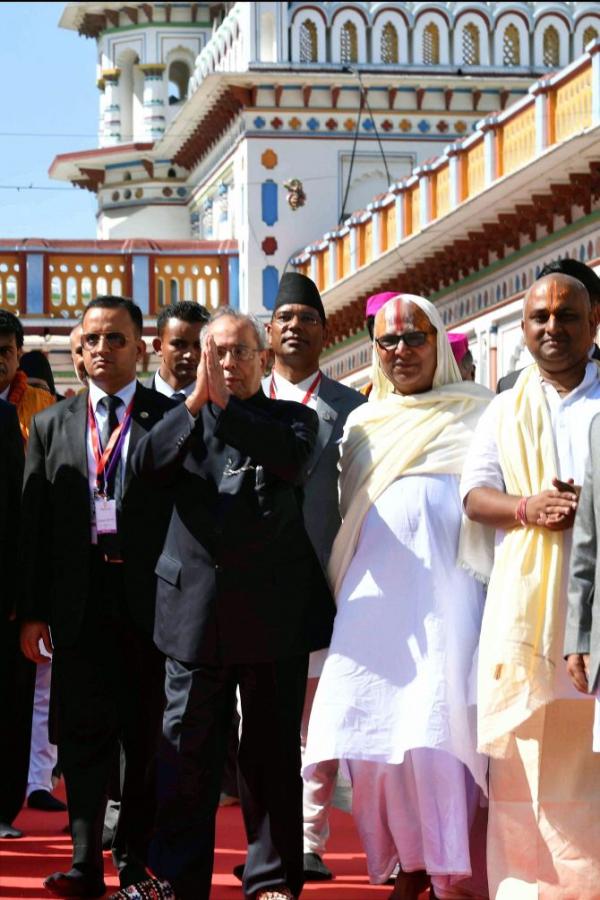 IMAGE: The President visits Janaki Temple in Janakpur. Photograph: PTI Photo
He also visited the ancient city of Janakpur and offered prayers at Janaki Mandir. "The city of Janakpur symbolises the long history of our contacts and close friendship and family ties which have existed between our peoples," Mukherjee said.
Janakpur has a substantial tourism potential due to its significance in Hinduism as the birth place of Goddess Sita.
In Janakpur, Mukherjee also spoke about giving 'adequate attention' to the development of border areas with India.
"Today, in consonance with priorities of the people of Nepal, both governments are giving particular attention to expediting implementation of connectivity and developmental projects such as Terai roads, cross border rail links integrated checkposts, power and transmission lines," he said.
He said these projects are vital not only for Nepal's socio-economic and infrastructural development but also demonstrate 'our collaborative efforts to facilitate trade, investments and movement of people'.
"The government of India is assisting in the construction of four integrated check posts along important India-Nepal entry point. The ICPs at Birgunj and Biratnagar will be of great advantage to the people of Janakpur...," Mukherjee said.
He lauded the people of Nepal for contributing towards India's security through their service in the Indian Army. "They have distinguished themselves through their valour and courage."
The president said India is committed to rehabilitation efforts being undertaken in Nepal following the 7.8 magnitude earthquake that rattled the country last year.
"The government of India has provided 32,000 Nepali rupees per pensioner in addition to other aid to 6,832 earthquake affected ex-servicemen," he said.