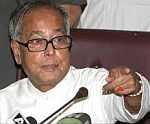 President Pranab Mukherjee has rejected the mercy plea of death row convict Saibanna Ningappa Natikar, who had murdered his wife and daughter. This is the second mercy petition that Mukherjee has rejected after assuming office.
The President had in November last year rejected the mercy petition of Mumbai terror attack convict Ajmal Kasab, who was then hanged in Yerwada jail in Pune, Maharashtra.
According to a Rashtrapati Bhavan statement, the President's secretariat rejected Natikar mercy plea on January 4. Natikar is presently lodged in central prison at Belgaum in Karnataka.
Mukherjee has returned nine petitions including that of Mohammed Afzal Guru to the home ministry for further consideration.
Guru has been given death sentence for attacking Parliament in 2001 in which nine persons were killed and 16
were injured.
Article 72 of the Constitution empowers the President to pardon, grant reprieve or suspend, remit, commute sentence of a person convicted for any offence.
The home ministry acts as a nodal agency for the President secretariat for deciding on mercy petitions.
The President had in November last year commuted death sentence of convict, Atbir, to life imprisonment. Atbir was sentenced to death by a sessions court in New Delhi in 2004 for the murder of his stepmother, stepsister and stepbrother over a property dispute in 1996. The decision was upheld by the high court and the Supreme Court in August 2010.
The President has disposed of the petition on November 15 commuting the death sentence given to him to life imprisonment.