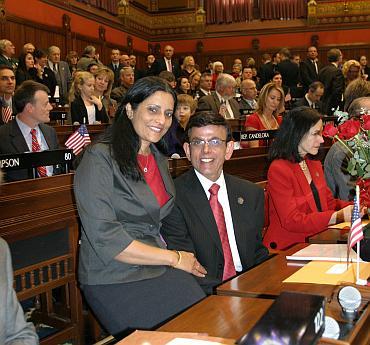 Dr Prasad Srinivasan, the first Indian-American and the only physician among 151 members of the Connecticut General Assembly, said he was sworn into office "in a ceremony that was even more majestic than I had ever imagined."
"Now the poetry, that was the campaign, is over and the prose of reality is ahead of us. The real work begins," said Srinivasan, the second Indian American after New Jersey Assemblyman Upendra Chivukula to become a state lawmaker in the New York-New Jersey-Connecticut tristate area.
A graduate of Baroda Medical College, Srinivasan, a Republican, won from the 31st District in Glastonbury trouncing the two-time Democratic incumbent. He campaigned on issues like fiscal responsibility, opportunities for businesses to grow, and better health care.
"Lack of fiscal responsibility is the main problem," Srinivasan said about Connecticut. "We have no right to spend as we please. It is not our money. It is the money for the people and for the future generations. We have to learn to live on our means. The cost of electricity in the state is the highest in the nation. Cost of doing business too is the highest. The transportation system is fragile. The situation with public health too is not good. We cannot go on like this. The $ 3.5 billion budget deficit facing Connecticut will not go away by continuing business as usual, instead, we need to make tough decisions and change the culture in Hartford."
He is not worried that the Republicans are a minority in both chambers. The governor is also a Democrat.

Srinivasan was appointed to the Public Health, Education and Finance, Revenue and Bonding committees for his first term in the legislature. He said he will cut down his medical practice --e has been treating patients with allergies in the Hartford area for over 30 years--to concentrate on his work as a lawmaker.

His wife and children were very supportive of his decision to join politics.
Born in Kerala into a Tamil family, he came to the United States in 1975 and is an alumnus of the Brookdale Hospital in Brooklyn, New York and the Michael Reese Hospital in Chicago. He is actively involved with the American Association of Physicians of Indian Origin and the Connecticut Valley Hindu Temple Society.
He has served in leadership positions in the Community Health Advisory Committee, Connecticut State Medical Society, and the Hartford County Medical Association. He is a founder of Free Public Health Clinic for Uninsured patients.
His wife Kala is a musician. Their son Shashank is a physician at the Harvard Medical School and daughter Anusha is a financial professional with Citibank in New York.
Image: State Representative Prasad Srinivasan and his wife Kala take the pledge of allegiance during the opening day ceremonies at the Connecticut state capitol.