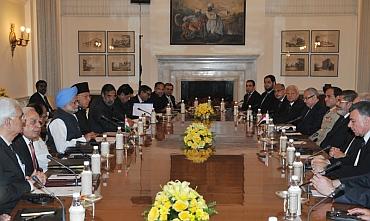 In a bid to deepen ties and strengthen economic bonds, India and Egypt on Tuesday signed seven key pacts including one on cyber security after Prime Minister Manmohan Singh and Egyptian President Mohamed Morsi held bilateral talks in New Delhi.
The two leaders also agreed to enhance cooperation in defence and in international forums such as the United Nations.
"President Morsi and I have just concluded extensive and very productive discussions... We agreed that his visit, at an important juncture for Egypt, offers us a great opportunity to renew our relationship and take it to a different level of engagement and cooperation," Prime Minister Singh said after concluding talks with Morsi.
Expressing admiration for the courage and sacrifices of the people of Egypt in ushering in a new era of democracy, Singh said India has offered to share its experience as Morsi "ably leads his nation in building strong institutions and frameworks for democracy, social justice and inclusive economic development".
"I am convinced that Egypt's successful transition would be an important model for the region and the world," he said.
On his part, Morsi called Singh a 'noble brother' and said his visit shows that Egypt is keen to cooperate with India. Morsi came to power after Egypt's first democratic elections last year that were held after the 30-year-old iron-clasp rule of former strongman Hosni Mubarak came to an end in February 2011, following a series of anti-regime protests, known as the Arab Spring.
Underlining that India and Egypt have enormous potential for deepening cooperation across the full spectrum of ties, Singh said economic partnership has 'rich possibilities'.
"We agreed that information technology, services, electronics, small and medium enterprises, manufacturing, fertilisers, and renewable energy constitute important areas of cooperation.
Egypt's location, as a bridge between Asia and Africa, astrides a major global trade route and together with its skilled human resources makes it an attractive business destination for India, he said.
The prime minister said he and Morsi agreed to foster productive partnerships in socio-economic development programmes, skill development, higher education, agriculture and health care.
"We also agreed to enhance our defence exchanges and cooperation," he said. "The agreements that we have signed are a clear manifestation of our desire to impart a new dynamism to our relationship," Singh said.
The seven agreements signed included an MoU in the field of cyber security, setting up of a Centre for Excellence in IT in Egypt's Al Azhar University, cooperation in the field of protection of intellectual property rights and prevention of illicit traffic of antiquities besides others.
The MoUs was also signed to identify a number of core areas which would be the focus of cooperation. These include e-governance and e-education, IT and electronics hardware, sharing of experiences in the creation of TechnologyParks and IT clusters, and strengthening the cooperation between ICT companies in the private sector among others.
Another MoU facilitates sharing of information, meetings between enterprises, technology transfers and to provide consultation services to enhance the abilities of business enterprises of India and Egypt.
A letter of Intent concerning launch services of the Egyptian Nano Satellite EGYCUBESAT-1 on board the Indian Polar Satellite Launch Vehicle, was signed between Antrix Corporation, the commercial wing of Indian Space Research Organisation, and the Egyptian National Authority for Remote Sensing and Space Sciences.
The two leaders also exchanged views on a range of regional and international issues. The prime minister said both countries share interest in peace and stability in the Gulf, West Asia and the North African region
"I conveyed our steadfast support to the Palestinian cause and expressed our deep appreciation for the role played by Egypt in trying to forge unity between the Palestinian groups and work towards a peaceful resolution of this long standing issue," Singh said.

Singh said that the two leaders also discussed the deteriorating situation in Syria and condemned the violence and loss of innocent lives there.
"We agreed on the urgent need for a peaceful resolution of all issues through dialogue," he said. Both leaders underscored the importance of forging stronger regional and international cooperation between the two countries to address common challenges such as climate change, food and energy security and terrorism.
"We agreed to intensify our efforts on issues that affect developing countries, and increase our coordination in various international forums, including the United Nations, G-77 and the Non-Aligned Movement.
"I must mention the enormous reservoir of goodwill and trust, and the ties of history, culture and religion, which bind the people of India and Egypt," he said.
"Morsi and I agreed that this provides a solid bedrock on which to build a strong and durable bilateral relationship and international partnership between our two countries," Singh said. Morsi expressed his 'deepest gratitude' to India for support to Egypt and said he was keen to combat poverty in his country and further economic growth.
While the current bilateral trade stands at about $5.5 billion, Morsi said he would like to see it double in the next 'few' years. Morsi said he wanted Egypt to become the 'hub of Indian exports to Africa'. He said his visit has a 'vast horizon' and it was important for Egypt.
Image: Egyptian President Mohammad Morsi with President Pranab Mukherjee and Prime Minister Manmohan Singh at the delegation level talks in New Delhi.
Photo credit: PIB