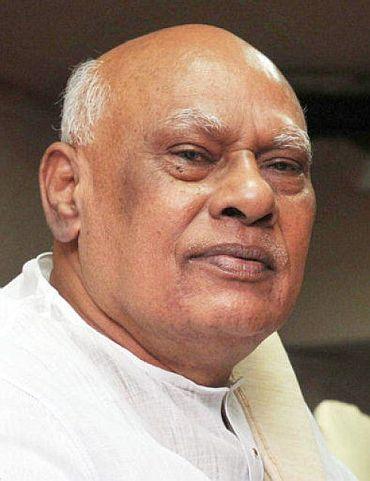 With Kiran Kumar Reddy adamant that he will step down as the chief minister of Andhra Pradesh after the announcement on Telangana is made, the Congress is exploring the option of bringing former CM Konijeti Rosaiah back to the state to head the government, reports Vicky Nanjappa.
Despite being asked not to resign, Kiran Kumar Reddy is likely to step down, keeping in mind his own political future. He hails from the Rayalseema region, and unless he speaks out against the formation of Telangana the people are not going to vote for him.
K Rosaiah, on the other hand, was chief minister of Andhra Pradesh following the death of Dr Y S Rajasekara Reddy. He served for a brief period before being made the governor of Tamil Nadu. The Congress is now exploring the possibility of bringing him back to Andhra Pradesh as they believe that he is the best person to see through the process of formation of Telangana.
His relations with Congress leaders from all regions of the state are very good and it is expected that all will listen to him if he is made the chief minister.
But the Congress has also been flooded with complaints against Rosaiah as the Dravida Munnetra Kazhagam in Tamil Nadu has accused him of being too soft on the All India Anna DMK. In this context, both Finance Minister P Chidambaram and Minister for State, Narayanswamy, met Rosaiah to discuss the situation in Andhra Pradesh at length, and felt that he was the best person to be the CM when the process to form Telangana begins.
The Congress appears to be in a hurry to form the new state and would like the process to be completed before the elections, which are a few months away. Rosaiah would not only be able to bring about a certain amount of calm among the Seema-Andhra leaders, but would also remain in the good books of Telangana leaders, it is felt.
The Congress expects some problems such as water-sharing once Telangana is formed. Issues such as denying water to Rayalaseema as the people of Telangana complained that the former got a lion's share is one of those. In such an event, Rosaiah is being seen as the person who would be able to coax the leaders from Telangana. He is respected in all circles due to his seniority in the party, and his age, say Congress leaders.